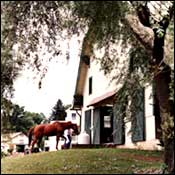 Lay of the land: Montville Township comprises Pine Brook, Montville, and Towaco. The rolling hills and valleys were rich farmland before developers began laying out curvy streets of shingled, shuttered Colonials on two-third-acre lots in the late sixties, and horse stables can still be found in more rural Towaco. "Montville is a magnet for people who want good education as well as good recreation," says Thomas Mazzaccaro, director of the water and sewer department and former Board of Education president. He admits it is extremely quiet—too quiet, perhaps, for some: "There's very little to do at night."
Meet the neighbors: There aren't many celebrities, but "there's a lot of chipmunks," says Irwin Reis, 49, who lives with his wife, Bonnie, and their two children in Pine Brook. "And rabbits." Folks here are family- and home-oriented, preferring to watch football games on weekends—either the ones on TV or the ones their kids are playing in—rather than trek to the city for cultural offerings. The massive new playground in a former cow pasture near the high school has become the place to hang with the neighbors. Park the minivan, dispatch your kids to the swing set, then stand on the periphery talking to other parents.
Needful things: If you crave action, you'll be spending a lot of time in your car. There is almost no commercial activity of any kind in Montville, aside from a couple of gas stations, a 7-Eleven, and a few buzz-free eateries like Poor Henry's Family Restaurant and the Columbia Inn. Everything, day or night, requires a drive to somewhere else, even grocery shopping. The upside is that having no businesses and nowhere for anyone to hang out keeps the crime rate close to nonexistent. Morris County runs three public golf courses near, but not in, Montville: Bowling Green in Jefferson, Sunset Valley in Pompton Plains, and Crystal Springs in Hamburg.
School report: A big selling point. Montville spends $10,184 per student annually. Nearly 77 percent of the students at Montville High took the SAT (average score was 1,096), and 77 percent head to four-year colleges. Just getting started? Nursery schools abound. Everything from Montessori programs to cooperative schools where parents assist teachers to a Baptist kindergarten to five preschool programs in the local public-school system.
Commute: Montville is 33 miles from midtown Manhattan. It's 50 minutes by train or about an hour by bus to the city. Most commuters to Manhattan drive to the park-and-ride in the Willowbrook Mall.
Recommended realtors: Francine T. R. Craven at RE/MAX (973-575-6005, ext. 115); Cindy Marsh-Tichy at Weichert Realtors (973-575-1122).
See also: Montville Web Guide
House Prices
Two-bedroom house
$270K to $300K

Four-bedroom house
450K to $750K

Six-bedroom house
$700K to $1.4M

Taxes
Range from $5,955 for a four-bedroom worth $400,000 to $11,000 for a five-bedroom worth $750,000. Sample listing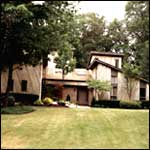 Details: Six bedrooms, five and a half baths, skylight, high ceilings, deck, rec room, library; sits on 0.8 acres.
Price: $749,500 (Weichert Realtors)









Web Guide
First Stop
Montville Township
just what you need to know about Montville: town history and information on the water and sewer department, township boards, local events, town budget, recycling, and more.
Recommended Brokers
Weichert (Cindy Marsh-Tichy, recommended broker)
RE/MAX (Francine T. R. Craven, recommended broker)
  Other
Montville School District
Chamber of Commerce
Morris County Crime Report
Sheriff's Office