Lay of the land: The town of Pelham, on the Bronx border, actually comprises two villages—Pelham and Pelham Manor, each with its own mayor, police, and emergency-response team—but few people bother to make the distinction. Most homes were built in the twenties, and the architectural style is a mix of Colonial, Mediterranean, and Tudor. "Many people may dislike the thought of living in the suburbs after living in Manhattan because they think they can't walk anywhere," says Kristine Dahl, an agent at ICM. Pelham, she says, is compact and eminently walkable. Houses are on small lots and closely set together. The cozy contiguity fosters a deep-rooted loyalty among residents. "People seem to come back," says nine-year resident Carolyn Cassidy. "They grow up here, go to college, move somewhere else, and then come back when they are ready to settle down with a family." Pelham Heights, the area closest to the train station, is the most expensive part of town (prices run about 10 percent higher).
Meet the neighbors: Pelham is a media hothouse. Current residents include House & Garden editor Dominique Browning, Glamour creative director Donald Robertson, Condé Nast Traveler editor Thomas Wallace, and more or less the entire staff of The New Yorker. "There are a lot of wordies up here," says Patrick Cooke, the executive editor of Forbes FYI and a resident of about a year and a half. "It's not a town of investment bankers."
Needful things: With fresh flowers hanging from the streetlights and shops keeping their doors open in warm weather, Fifth Avenue, Pelham's small retail strip, is cute and welcoming. There are a number of good restaurants, mostly Italian, along with core essentials like a grocery store, a pharmacy, a hardware store, and a single-screen movie theater. Otherwise, the nearest shopping centers are in White Plains, New Rochelle, or Mount Vernon. Pelham's Recreation Department offers more than 70 programs each year. There's also an arts center, the New York Athletic Club (which has a three-month waiting list), the Pelham Country Club, summer programs for kids, Little Leagues, and other clubs. "You can get as involved as you like. There are plenty of opportunities," says Dahl.
School report: The town spends approximately $12,000 annually per student. ("We strive to be below the median for pupil expenditure, but above the median in the quality of our education", says Charles T. Wilson, superintendent of schools.) Last year, the average SAT score was 1161, and 81 percent of the class of 2001 enrolled in a four-year college. Pelham, being so small, doesn't have its own school-bus system, which means virtually every kid walks to school.
Commute: Pelham is seventeen miles from midtown. Metro-North trains depart from Pelham every half-hour, and the trip to Grand Central Station takes 29 minutes. Monthly passes cost $140.
Recommended realtors: Carol Brown at C. S. McClellan Real Estate (914-738-5150); Scott Stiefvater Real Estate (914-738-1133).
See also: Pelham Web Guide
House Prices
Three-bedroom house
$425K to $500K

Four-bedroom house
$500K to $850K

Six-bedroom house
$750K to $1.8M

Taxes
Range from $11,000 for a $425,000 home to $40,000 for a $1.8 million property.Sample listing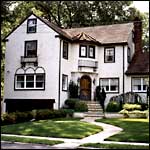 Details: Four-bedroom, two-and-a-half-bath Tudor with third-floor rec room, heated sun room, brand-new eat-in kitchen, and fireplace. Deck in back of house overlooks a large yard; 0.25-acre lot; 2,820 square feet.
Price: Recently sold for $770,000.









Web Guide
First Stop
Town of Pelham Official Site
Hosts the local police precinct web site, as well as a word from the mayor, an up-to-date town budget, extensive schools information, town history, and train schedules into NYC.
Recommended Brokers
C. S. McClellan Real Estate
Stiefvater Real Estate
Yahoo Real Estate Listings: Pelham"
Other
Village of Pelham Online
Pelham Chamber of Commerce
Pelham Businesses