Lay of the land: "It's the best of both worlds," says Kathy Eisberg, former associate PR director of In Style and a mother of two who moved from Manhattan to this tree-lined village two years ago. "I am so close to Manhattan, yet I also have a yard with a swing set." The one square mile of the Village of Larchmont, encompassed by the larger Town of Mamaroneck, is split into two parts by the Boston Post Road. The older of the two sections, Larchmont Manor, lies directly on Long Island Sound and is composed of large Victorian and Colonial houses, most dating from the early twentieth century. The wide streets are lined with dogwood, cherry, and magnolia trees. Residents praise the excellent school system and the physical beauty. "It's right on the water, and the commute is terrific. You're not going to get much better than this," says real-estate agent James Whittemore.
Meet the Neighbors: Larchmont is less image-conscious than neighboring towns like Scarsdale—"I don't get dressed up to take my son for a walk," says one resident—but it still has a high median income, around $125,000, thanks to the many bankers, lawyers, and finance types within its borders. Celebrity residents, such as director Ang Lee, usually keep a low profile, though former resident Joan Rivers made it a habit of including Larchmont in her stand-up routine.
Needful things: The local French population makes its presence felt and appreciated with a first-class cheese shop, an alarmingly well-stocked liquor store, and two patisseries vying to produce the flakiest croissants. There is also a four-screen movie theater, the Larchmont Playhouse. Plus, of course, Manhattan is only a short drive away. "I may not go there often, but I know it's there" is a widely held sentiment. Homegrown social life also has a beach element: Many residents are members of the local shore and yacht clubs.
School report: "Students can get the same education at Mamaroneck High School as they can at any of the top private schools in the city," insists one parent, whose daughter is now a senior at Cornell. The Mamaroneck school system spends $14,853 on each student annually ($3,000 above the state average); 80 percent of students from last year's graduating class went on to four-year colleges; the average SAT score for students at Mamaroneck High School was 1,117. There are four nursery schools to choose from, "without the competitive-enrollment problems that you'll find in the city," says Eisberg.
Commute: Larchmont is 21 miles from midtown Manhattan. A train ride to Grand Central Terminal on Metro-North's New Haven line takes 40 minutes; monthly passes are $141.
Recommended realtors: Burbank Whittemore (914-834-1070); Meritt Associates (914-834-2800).
See also: Larchmont Web Guide.
House Prices
Two-bedroom house
$375K to $475K

Four-bedroom house
$600K to $1.2 million

Six-bedroom house
$1.5 to $2.3M

Taxes
Range from $7,500 for a small two-bedroom worth $375,000 to $26,000 for a large six-bedroom worth $2.3 million.Sample listing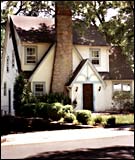 Details: Four-bedroom, three-bath Tudor, with eat-in kitchen and small deck; requires some work. Sits on a dead-end street, 3⁄4 miles from train station; 1,900 square feet.
Price: $599,000 (Houlihan Lawrence)








Web Guide
First Stop
Larchmont Online
It's a great resource. You'll find maps, newsletters, a substantial historical photo gallery, a community and recreation calendar (soccer signup to town meetings!), and information from government resources, businesses and arts and non-profit organizations. The Newcomer's Guide includes a web directory with links to everything from the yellow pages to the transit authority.
Larchmont Gazette: New to 10538?
Just as helpful is the Larchmont Gazette's website, particularly its guide for newcomers. It asks – and answers – questions about real estate agencies, schools, transportation, and town rules and regulations.
Real Estate Listings
Burbank Whittemore
Merritt Realty
Yahoo Real Estate Listings
Newspaper
The Larchmont Gazette
The Journal News
Other
General Larchmont Information
Larchmont Police Department
Larchmont Map