On a recent icy morning, a stretch limo glided up Greenwich Street to No. 497, an eleven-story luxury condominium rising behind a dramatically rippled glass exterior—an anomaly among blocks of squat warehouses mitigated only by the occasional café and dive bar. Carlo Salvi, an Italian entrepreneur with wild black hair who owns, among other less glamorous and more profitable companies, half of the modeling agency that reps Naomi Campbell, emerged from the car, trailed by a middle-aged assistant. Salvi is thinking about adding another address to his collection of homes—he's already staked out Miami, Lugano, and London—so he's checking out the Greenwich Street Project, where Campbell, Jay-Z, and Isabella Rossellini have toured lofts, and artist Richard Tuttle, among more than a dozen others, recently closed a deal. "I am in New York for only two months a year, so I don't need a terrace," Salvi says, surveying the massive wraparound glass balconies of the $6.6 million, 3,600-square-foot penthouse duplex that will be delivered raw. He guesses out loud that it would cost him another $1 million before he'd be finished, especially if he plans to take his broker's advice to build a central glass staircase like the one in Apple's Soho store. "I don't need it, but I'll buy it if I find a good deal." Through slanted floor-to-ceiling windows, the unobstructed views of the river and the freshly renovated stretch of the $400 million Hudson River Park below are spectacular, even if a winter storm has turned the landscape into an icy tundra.
There's a real-estate revolution afoot on downtown's Far West Side, and it's a revolution from above. Salvi typifies a new breed of buyers being targeted by ambitious developers who are colonizing the Hudson River shoreline from the western edge of Soho north to the Far West Village. Speculators are betting that these high-end homesteaders will shell out millions for eye-catching architecture, picture-postcard sunsets, and such luxury amenities as resistance pools and guest apartments. The ideal buyer is not dissuaded by the fact that it's all but impossible to hail a cab on these frigid, windy corners, since he's likely to have a car and driver idling curbside, not to mention another home at the ready in gentler climes. There are no snobby co-op boards to impress. And let's face it: The private chef may be the only one prowling the forbidding side streets in search of black truffles or aged Gouda.
The Greenwich Street Project, brainchild of British developer Jonathon Carroll and Dutch architect Winka Dubbeldam, is just the first stop on Salvi's neighborhood tour. On the same block, the fourteen-story 505 Greenwich Street, which opened its sales office in early January, touts a list of 400 prospective buyers waiting to look at apartments. A dozen blocks north, buyers are moving into Richard Meier's celebrated twin glass towers at 173 and 176 Perry Street, developed by Richard Born, or eagerly awaiting a third, even more luxurious Meier tower going up next door at 165 Charles Street for developers Izak Senbahar and Simon Elias, who are, like the others, asking $1,500 to $2,500 per square foot for their new digs.
A short walk from the Meier matrix is Morton Square, developer Jules Demchick's sprawling compound of condos, townhouses, and lofts designed by Costas Kondylis, where buyers as disparate as artist Chuck Close and the teen television-and-tabloid stars Mary-Kate and Ashley Olsen will be moving in. And the West Village land rush isn't over, either: On January 15, the Related Companies (which brought us the Time Warner Center on Columbus Circle) signed a deal to develop high-rise condos on the site of the Superior Printing Ink Company, a 33,000-square-foot lot about four blocks north of the Perry Street towers, at Bethune and West 12th Street. "It's the last and best remaining site," boasts Related's 35-year-old golden-boy president, Jeff Blau.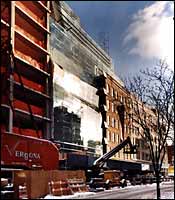 The dream these developers and their world-class designers share is the total transformation of the lower West Side riverfront, an area that extends from 14th Street south to Canal Street and from Hudson Street west to the river. Until recently an industrial wasteland a little too far from the cobblestones and quaint townhouses of the West Village and Soho, the area has quickly become a status sphere replete with Park Avenue amenities—and Park Avenue sticker shock. What distinguishes the new buildings beyond their luxe accoutrements is their bold attack on the skyline, bringing airy, spacious, open residential design more typically associated with California and Europe to the banks of the Hudson.
The new condo coast owes its development in part to the Hudson River Park renaissance—Rollerblading! Trapeze school! Kayaking! Jogging trail! But it's also a consequence of developers running out of commercial buildings to convert in Tribeca and Soho—and being unable, because of zoning, to go vertical in the meatpacking district. New buildings also lend themselves to high-tech amenities and luxury appointments (pet spa, anyone?). Embellish them with cutting-edge, brand-name architecture, and you've got catnip for the city's restless buyers ever in search of the latest trophy home.
"You're seeing a lot of your typical Upper East Side buyers moving downtown for something hipper, cooler, with better views and new modern buildings," Blau says. "The people who are buying in this market are used to having their own drivers."
And they're willing to pay for parking garages, proximity to the West Side heliport, gyms with spas, and 24-hour concierges in brand-new buildings, rather than conversions of warehouses and factories like their Tribeca predecessors.
The neighborhoods into which they're moving range from the yuppie-friendly Far West Village at the north end, adjacent to the quaint cafés and chic boutiques that line the narrow streets of the West Village, to gritty pre-gentrification West Soho at the south end, an area almost completely lacking in amenities.
Not surprisingly, current residents are somewhat ambivalent about the impending glamorization of the last stretch of viable real estate along the West Side Highway. High-rise development is allowable only because it's outside the historic zone, which prompts West Villagers to worry that it will end up blocking the light and air—not to mention their river views.
"The major concern of locals," adds Arthur Strickler, district manager of Community Board 2, which oversees the Far West Village, "is we don't want to have our side of the Hudson River mirror the New Jersey side."
Related Story
Glass Act: A Photo Tour
One of the first tenants to set up house in Richard Meier's towers embraces the exposure (most of the time) from his sleek — but luxuriously soft — modernist perch. (Feburary 9, 2004)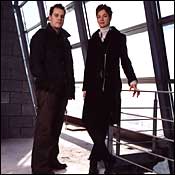 If you're looking for the man most responsible for luring the chauffeured set to Manhattan's newest Gold Coast wannabe, look no further than Richard Meier. His name is the mantra uttered by downtown brokers and developers spinning the rationale for charging Central Park prices for Abingdon Square environs. When Richard Born broke ground three years ago on the matching Meier-designed glass towers at the river end of Perry Street's windy corridor, Martha Stewart, Nicole Kidman, Calvin Klein, real-estate developer Scott Resnick, and Sun Microsystems co-founder William Joy were among the first to spend about $2,000 a square foot for raw space that included concrete floors, de rigueur wraparound floor-to-ceiling windows, and vertigo-inducing terraces. The only boldface name to have moved in so far is Rita Schrager, the former ballet dancer and ex-wife of hotelier Ian Schrager (though Boy From Oz star Hugh Jackman is renting there). But the condo board has already been elected: Resnick, Joy, Ian Schrager, and president Calvin Klein, who has almost finished his $14 million triplex.
Bordered by West Houston Street to the south, Hudson Street to the east, and West 14th Street to the north, the Far West Village—the northern end of the new Condo Coast—is only a few blocks from the area where Gwyneth Paltrow, Julianne Moore, and Anna Wintour live in nineteenth-century townhouses that have been protected by the Greenwich Village Historic District since 1969. It's family-friendly, though the riverfront has yet to have a big family presence. Public School 3 and the Greenwich Village Middle School, both on Hudson Street, have some of the city's highest test scores, and St. Luke's School is also a desirable private-school option for the deep-pocketed buyer.
Of course, not everyone is convinced that the new development will mesh with the surrounding area. "It's really a separate neighborhood, it's so far west," says hotelier Jeff Klein, who owns a West Village townhouse and midtown's City Club Hotel. "Two years from now, when Nicole and all of them get out of there, the glamour will be deflated and it's not going to be as expensive. It's a very inconvenient area. It's not a neighborhood, even though two blocks east is great.
"If you look at East End Avenue, that was created as an expensive enclave," Klein continues, "but the prices per square foot are not as expensive as Fifth Avenue. The more central you are in the city, the better off you are."
But the riverfront really is pretty central, especially if, like Kidman, you travel by Town Car and helicopter. It may seem like the end of the world—or at least like Jersey City—but there's actually a dry cleaner and a parking garage on the same block as the Perry Street towers, which are just a few blocks from established shops like Magnolia Bakery, home of the city's most celebrated cupcake, and around the corner from Wallsé, one of the area's top-rated restaurants.
"All the old West Village people, like Lou Reed, Julian Schnabel, and Laurie Anderson, come in here, and I hear stories about before that are much different from what I see now," says Kurt Gutenbrunner, Wallsé's Austrian chef-owner. "Look at the traffic! When I came here in 2000, I never would have thought Jean-Georges would be down the street, and now he'll be in the Meier building. I'm not so lonely here anymore."
Soon he'll also be joined by the all-star team renovating Le Zoo, at 314 West 11th Street (about three blocks from the Perry Street towers). Mario Batali and Bono are among the backers of the new restaurant, slated to reopen by next spring with chef April Bloomfield, formerly of London's River Cafe, a posh Italian restaurant.
"You're seeing a lot of your typical Upper East Side buyers moving downtown for something hipper, cooler, with better views."
The dearth of shops and services isn't the neighborhood's only obstacle. The Perry Street towers do look lonely from the street, as only a handful of buyers have finished the raw apartments they purchased, and just one, on the second floor of the south tower, has installed the white shades on the floor-to-ceiling windows that are the only allowable treatments to provide privacy. The Rear Window effect already has some buyers backing out of the building. "It's not very private," complains one uptown socialite whose new husband bought a Meier loft before they were engaged and has since put it on the market for $2.75 million. "It's gorgeous, but it's more of a bachelor pad."
Brokers—at least those who haven't scored commissions in the towers—claim that selling unfinished apartments is a mistake, and 30 percent of the original buyers are trying to flip the Perry Street lofts, with unforeseen difficulty. Born counters that only 5 of 23 units are being flipped, and he doesn't regret choosing to sell the spaces raw. "Very high-end users want to create their own environment, and whatever I would give them would probably not be what they want," he says. Martha Stewart's $6 million, 3,000-square-foot duplex sat on the market for more than a year before finally selling last week, and actor Vincent Gallo recently spent $1.6 million for a loft that the previous owner bought for $2 million—and just sold it since he doesn't want to live next to a construction site.
The third Meier-designed tower will be unveiled next spring, complete with a 35-seat screening room, a 50-foot lap pool, and a ground-level art gallery. Unlike the Perry Street buildings, there will be two apartments per floor, rather than one. The new sixteen-story tower will have 31 apartments, priced at about $2,500 per square foot. Meier is designing everything from the shower curtains to the kitchen sink.
Meier and Senbahar agreed on "an evolution from the Perry Street towers," Senbahar says, and in deciding to let Meier finish the interior space, the developer is betting he'll be able to charge up to 50 percent more than the Perry Street prices: "I've always believed that the finished product in New York City is a better product, because construction is a tough business." Prices will start at $4 million and cap at $20 million for the 5,000-square-foot penthouse with 24-foot-high ceilings.
Senbahar closely resembles Morton Square's architect, Costas Kondylis (who has also designed most of Donald Trump's condo towers), and somehow it's hardly surprising that they're close friends who vacationed together over New Year's in St. Bart's. Both are born-to-the-manner Eastern Europeans, but while Senbahar is aiming for the high-end buyer, Kondylis and Morton Square's developer, Jules Demchick of J. D. Carlisle Development Corporation, have created a compound suitable for middle-to-upper-class residents.
Just a few blocks south of the Meier towers, Morton Square stretches from West Street to Washington Street, with rounded corners that evoke an ocean liner nestled next to the venerable townhouses and shops that line Barrow and Hudson streets. It's also barely a block from the Archive, a redbrick Romanesque Revival building, constructed in the 1890s as a warehouse for federal archives, that was converted about ten years ago into luxury apartments—complete with a DÂ'Agostino supermarket, a Crunch gym, a dry cleaner, and paparazzi-hounded tenants including Monica Lewinsky.
"Ours is a whole city block," says Kondylis, who also designed 285 Lafayette Street four years ago, then a pioneering building and still home to such original buyers as David Bowie and Iman. "We took an urbanistic approach. What makes great urbanistic designs is to be contextual. We didn't just want to drop objects on the site like Meier did." Which is not to say that Kondylis doesn't admire Meier's design: "The standard is now set," he declares. Kondylis used Meier's aesthetic for inspiration, as well as the rounded corners of Chelsea's massive Starrett-Lehigh building, home to the Martha Stewart Omnimedia mother ship.
But Kondylis didn't copy Meier, much to his developer's relief. The façade is composed of just 65 percent glass, and the apartments are delivered finished. "We learned from Meier's mistakes," says Demchick, who sports a gold pinkie ring. "We're trying to create substance and security. Floor-to-ceiling windows are not a secure feeling."
Brokers list Naomi Watts, Stanley Tucci, and Ally Sheedy among the celebrities who have toured the property more than once, and say that Sheedy is moving in, joining the Olsen twins, who bought a $3.5 million condo in lieu of shacking up in a Greenwich Village dorm next fall, when they plan to attend NYU.
Built on a former United Parcel Service parking lot, the development near the north end of West Street includes a fourteen-story condo tower and six townhouses with loft apartments. They're slated to be ready by next fall. Morton Square's sales office opened last summer, and about 62 percent of the units, ranging in size from 1,160 to 4,000 square feet, are said to have sold for $1.1 million to $4.25 million.
With its bicycle room and 24-hour valet staff, Morton Square feels more Upper West Side than West Village—which is precisely why artist Chuck Close and his wife Leslie decided to move there from Central Park West. They liked the underground parking garage, since he's confined to a wheelchair and uses a van for transportation. But to draw buyers like Close, the creative-minded people whom the Far West Village developers are targeting, Morton Square's developers also commissioned a lobby installation from trendy glass sculptor Tom Patti and plan to add jazzy features like handprint-recognition technology instead of keys to gain entry to the garage.
They also built West Village–style townhouses and downtown-type lofts for people wanting a Tribeca feel—which seems to be working. Andrew Marcus, a 34-year-old single chiropractor, recently bought a $1.85 million, two-bedroom condo. The river views were a major selling point, drawing him from an apartment he owns in Murray Hill. "You can't beat being on the water," says Marcus. "Morton Square is unobstructed. Every night you see the sunset over Jersey City. And I don't think there's any better place to be than the West Village, for the downtown nightlife and restaurants."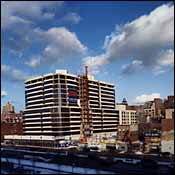 The most isolated part of the Condo Coast is the southern extremity: The Greenwich Street Project and 505 Greenwich—just two blocks east of the West Side Highway and one block from UPS's not-exactly-eye-candy loading docks and parking lots—are pioneers in a primarily commercial area that optimistic developers and brokers have dubbed West Soho or Hudson Square. Young hipsters pack nightlife mainstays like the Ear Inn, Sway, and Don Hill's, but there is no bakery, shoe-repair shop, or pharmacy within winter walking distance.
Around the corner from the new towers, the Vendome Group is planning a Philip Johnson–designed tower at 328 Spring Street to replace an earlier proposal that was rejected a few years ago by the Board of Standards and Appeals for being too tall.
The Jack Parker Corporation is also building a rental property on Spring Street. And Peter Moore Associates, an architecture-and-development firm, is working on two eight-story condo towers in West Soho that should break ground next fall on Spring Street and Renwick Street and on Washington Street and Canal. Prices figure to average about $900 per square foot and apartments will feature river views. "I think it's great that developers recognize that good architecture adds value," says Moore. "It's better than all this stuff that looks like Battery Park City. I'm excited about what's going on down here."
Across from 505 Greenwich's elaborate sales office on Spring Street is Giorgione, owned by Giorgio DeLuca (of Dean & Deluca). Sources say neighborhood resident DeLuca is now negotiating to take over the restaurant down the block, formerly known as Spring Street (and before that, Theo), between Greenwich and Washington streets—and to transform it into a restaurant and maybe a gourmet market for all the new high-end residents.
Deluca's timing may prove better than that of his predecessor Jonathan Morr. The BondSt restaurateur had shown the foresight to shoot for three stars in West Soho with Theo—a well-received restaurant that nonetheless failed—but it turned out to be three years too early, even after its reincarnation as the truffle-heavy 325 Spring Street. "It was meant to be an up-and-coming neighborhood, but it was very, very difficult to get people down there," says Morr. "It was like going to a different state. But the neighborhood is going to boom because of all these new buildings."
Jane Gladstein of Metropolitan Housing Partners (Soho 25, the Sycamore), which is developing 505 Greenwich Street with financing from Apollo Real Estate, makes the lobby and courtyard planned for 505 Greenwich sound more like a New Age spa than a condo tower: Architect Gary Handel & Associates' design features river rock, black bamboo, burnished copper, and Jerusalem limestone. The apartments will be delivered finished, with the obligatory Sub-Zero and Viking appliances, a wine cooler, ten-foot-high ceilings, and a flat-screen color-monitor security system. Prices will range from $770,000 for a 725-square-foot one-bedroom apartment to $3.5 million for a 2,500-square-foot three-bedroom penthouse.
Denise Levine, 48, and her 51-year-old husband, Jay, who both work for Con Edison, recently bought a 1,000-square-foot apartment after renting for four years in Battery Park City, where they liked living by the Hudson River.
"We love lower Manhattan, and here is a building that's really in the middle of everything," Denise says. "And I like the idea of a relatively youthful neighborhood. There are also nice restaurants in the area and convenient transportation. I wouldn't say great, but convenient transportation." The Levines even like the idea that another building is going up next door and that other condo towers are being built nearby, on the waterfront. "I think there will be more services soon in the neighborhood, more restaurants and delis. And everyone has FreshDirect now, so there's no need for a supermarket."
Meanwhile, 37-year-old Jonathon Carroll chose not to have a sales office at all for his Greenwich Street Project. The hip Brit, who made a pile of cash as an investment banker in London, wants to spend his money creating something artistic. With a slight resemblance to actor Paul Rudd, he looks the part of the artsy kid in the pack of silver-haired suits. This is his first development project since hiring Winka Dubbeldam in '97 to design his massive three-bedroom loft at 50 Wooster Street (also home to Claire Danes and Donna Karan). The loft—which has been featured in photo shoots with Lauren Bush for Town & Country, a Law & Order episode, and a Lenny Kravitz album cover—doubles as his office and features a model of the new building and a sample window in the middle of his living room.
But Carroll's probably going to sell it and move into the Greenwich Street Project's penthouse—now that Salvi and Jay-Z have passed.
The building's 23 units range in price from $2 million for a 2,800-square-foot loft to $6.6 million for the 3,600-square-foot penthouse with its 1,700 square feet of outdoor space. There are two elevators, a gym with a sauna and infinity pool, and a shared courtyard. Though three young families have bought lofts, most buyers, says Carroll, either have grown children or none, like Tom Schaller, a 52-year-old architect who recently bought a 2,800-square-foot loft he hopes to move into this summer, after he's fitted it out with a massive bedroom and a guest room–art studio. He's a fan of Dubbeldam's and wanted to live in a building with what he deemed "real architecture."
Schaller doesn't expect any inconveniences or lack of amenities. "It's not as if I'm moving to Nepal," he says. "There are a lot of things around. But if I had kids, I might worry about it."
Carroll says he's sold about 70 percent of the lofts and doesn't regret delivering them raw, even though other developers and brokers claim it's made for slow sales.
"It's always surprised me that New York is the most heterogeneous city there is, but in terms of where people live, it's the opposite," says Carroll, who likes to wear his olive-green raver sunglasses inside the apartment and says he only ventures above 14th Street to shop. "I didn't want to make decisions on interiors for other people." Call him earnest or disingenuous, but he also insists that money doesn't matter. "The apartments are selling," he says.
"We will be sold out in the next two months." And he believes luxury buyers want to design their own homes: "People buying more than $3 million apartments want to do it their own way."
When Carroll first bought the former food-storage lot that would become the Greenwich Street project in 2000, 505 Greenwich had not yet been planned and he hadn't heard anything about the Meier towers. "People thought I was insane," he says. "There was nothing there." Frankly, he wouldn't have minded if it had stayed that way, especially when the simultaneous construction of the adjacent buildings led to some inevitable complications—broken glass, ensuing catfights—that no one wants to talk about, at least on the record. "I would prefer if 505 weren't there," he admits on a recent afternoon, wearing designer army pants from Bergdorf's. "But I knew something would go up there."
Although Dubbeldam, who moved to New York in 1990 from the Netherlands to attend Columbia's architecture school, has designed commercial spaces (notably the now-defunct Gear magazine's fabulous offices), this is her first residential apartment building. The wavy-glass-curtain wall was a choice that reflects an obsession with both form and function: "I wanted the façade to have more interface with the city," she says. (The other reason was that, at the time Carroll and Dubbeldam applied for the permits, the city's building code mandated that a new tower had to have an incline after 85 feet in height. But the code changed between the two buildings' ground-breakings, so 505 Greenwich is taller and straight. "It's not fair, is it?" Dubbeldam carps.)
Dubbeldam is also moving from a Soho rental into the building this spring, and three buyers have asked her to design their raw lofts. "I love the new neighborhood," says Dubbeldam, who found the spot for Carroll after they had unsuccessfully scoured Williamsburg, Dumbo, and the Lower East Side.
"It's on the edge of everything, but it's not a hot spot yet. It's a nice, calm environment, and I can go running on the river."
While some established area residents may resist having the Marc Jacobs set move in, the high-end developments are indisputably good news for area's struggling small-business owners. To Javier Ortega, chef-owner of Pintxos, a tiny Basque restaurant right across the street from the two new buildings on Greenwich, the future tenants may as well be free gold. Five years ago, he came from Guatemala and opened the restaurant—but while the place fills up on weekends, he has yet to pack a crowd for a $35 dinner, including wine. Next door is Pao!, a popular Portuguese restaurant that was nevertheless almost empty at lunchtime one recent afternoon.
"Now people are coming in, filling three or four tables and looking across the street and saying, 'Maybe I'll become a regular customer,' " says Ortega. "This is very good for people like me."
Can the new upscale owners blend into the neighborhood and, ultimately, bring growth to such an out-of-the-way area? "When I came here nine years ago, people said, 'You're going to die.' Now there are five or six restaurants on the block," says Don Hill's eponymous owner, whose popular nightclub is adjacent to 505 Greenwich Street. "But I still don't think families are going to move into the neighborhood. Whether the edgy artists are going to be able to come out of here, where the rent's going to be so high, is another story. Rock artists are going to be trust-fund babies."
Strickler also doubts the waterfront-construction boom will abate anytime soon. "It's the wave of the future," he notes. "Ninety percent of the warehouses are all converted already. The only thing left is the empty lots."
What developers can do is make sure the buildings add stature to the skyline. "For the first time in New York, we finally have a real chance to show off some world-class architecture on our riverfront," adds Related's Blau. "It's up to the developers to keep the bar raised high."