$250K | $500K | $750K | $1 Million | $2 Million | $4 Million | $8 Million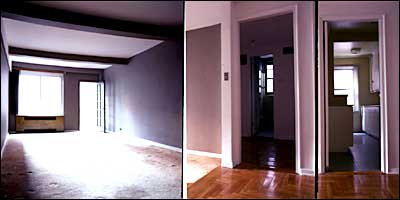 Note to Mark Burnett: Instead of feeding us another Survivor or The Apprentice, why not build a series around entry-level buyers competing for New York apartments? The intrigue, the battles—but let the combatants do the talking.
Ingela Ratledge, a magazine editor, has declared herself disheartened. "You hear that figure and you think you'll get something nice," she says. One place she saw on the West Side, for $265,000, "looked like the kind of apartment you'd see in movies of New York from the seventies." "The sellers are greedy," adds George, a business manager at an investment bank who's looking for a one-bedroom for his mother. "The apartments they're trying to sell at this price range are not worth it."
Even the good ones aren't much to look at. In prime areas like Greenwich Village, Gramercy Park, and the Upper East and West sides, "you're basically living in a decent-size bedroom," says Jon Rustin of Coldwell Banker Hunt Kennedy. Condos are out of the question. "A one-room studio in a condo is over $300,000," says Kathie Hannaford of the Corcoran Group.
Supply and demand are, as always, to blame. "I had an alcove studio on the Upper East Side for $225,000, and it was snapped up in a week," says Hannaford. "I put a studio in the same line in the same building on the market in January 2003, and it took five months to sell."
If you must live in a sought-after neighborhood, don't expect to do it graciously. "You may end up in a 15-by-20-foot apartment without a separate kitchen, on the first floor of a walk-up far from the subway," says Citi Habitats' Philip Franchini.
So what can beginning buyers do? Look up, down, east, and west—to Harlem, Murray Hill and the East Side past Third Avenue, Clinton, and especially the Lower East Side. "You can get a 500-square-foot studio in a building with a fitness center at Co-op Village for around $225,000," says Jacob Goldman, president of LoHo Realty.
Inwood, at the northern tip of Manhattan, may have the best deals in the borough. "About $250,000 will get you the nicest one-bedroom you can have," says Robert Kleinbardt of New Heights Realty. Many go for less than that and have dining rooms and park views. Co-op boards can be more forgiving than those to the south. "They're only looking for two things," says Kleinbardt. "Can you afford the apartment, and are you a good neighbor?"
Of course, if you want genuine space, you're voted off Manhattan Island. Try Rego Park, Kew Gardens, and Sunnyside in Queens, where Jacques Ambron, principal broker at Madeleine Realty, says you can still get a two-bedroom tax deduction in a neighborhood that's seen property values rise steadily. "You may even get a part-time doorman," he adds. The Bronx enclave of Riverdale has deals, too. "You can get a three-bedroom in North Riverdale for under $300,000," says Vivian Oleen of Sopher Realty. "But generally speaking, in that price range you'll get a decent two-bedroom with one or two baths, perhaps a terrace." Naturally, "the prices are going up as we sit here breathing," she says.
As for Brooklyn, the first refuge of the priced-out-of-Manhattan crowd: It's not so cheap anymore. With $250,000, you're pretty much priced out of a two-bedroom in Brooklyn Heights, and child-friendly Cobble Hill, Carroll Gardens, and central Park Slope may be off-limits, too; stretch to $275,000, though, and you can still buy gracefully scaled one-bedrooms there as well as in Prospect Heights and Fort Greene. If you're one to speculate, consider property in Gowanus, caught between Carroll Gardens and the Slope. "It makes perfect sense that the corridor will flourish soon," says Peggy Aguayo of Aguayo & Huebener. "There's lots of interest there among developers."
Williamsburg is out of bounds for the bobo hipsters in this price range, but their bucks are still welcome in adjacent Greenpoint, at least for a one-bedroom. "Ten years from today, Greenpoint will be perceived as a missed opportunity for anyone who didn't invest," says developer Josh Guberman. He also singles out Wyckoff Heights in Bushwick and Ridgewood as the next best thing. "That's definitely an emerging area," he says. "For $250,000 you can get a great apartment and grow with the community."
Great Neigborhoods
Upper West Side
125 West 96th Street. Studio co-op. $265,000.
The buyer of this 490-square-foot apartment hardly negotiated; he knew it was a deal, says Ariela Heilman of Klara Madlin. "Plus, it was built as a studio, not chopped up from a bigger space," she says. "I advertised it as a studio for two."
Park Slope
25 Plaza Street West. One-bedroom co-op. $245,000.
It's in a full-service building in the best part of Park Slope. The catch? "A really small Pullman kitchen," says Roslyn Huebener of Aguayo & Huebener. But it's near Seventh Avenue, so its new owner can live like a Manhattanite—on takeout.
Brooklyn Heights
75 Henry Street. One-bedroom co-op. $299,000.
This apartment needs a kitchen-and-bath overhaul—hence the friendly price. Even after the sale was in contract, says Elliman's Madeline Williamson, she got calls from one shopper "crying because he missed out."
Great Deals
Inwood
72 Park Terrace West. One-bedroom co-op. $250,000.
The buyer of this apartment with sunroom is a longtime Inwood renter. Broker Robert Kleinbardt of New Heights Realty especially likes the pet-friendly prewar building, calling it "one of the best co-ops in the area."
Flushing
Village Mall at Hillcrest. Two-bedroom condo. $286,500.
Herb DeCordova, who sold this bright corner condo, lives in the complex, which may be why he's so enthusiastic about its amenities (pool, 24-hour security, parking, all included in the charges). "There's nothing else like this in Flushing," he gushes.
Crown Heights
Bedford Avenue. Two-bedroom condo. $240,000.
It's a two-bedroom duplex with hardwood floors and eleven-foot ceilings; in Manhattan, it would go for triple that price. Says Corcoran's Gregory Todd: "In 1999 there was nothing here. Now there are lots of services."