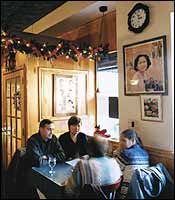 Traditional Thai dining at colorful Arunee.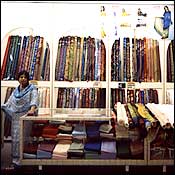 Get a sarong made-to-order from a vast array of fabrics at India Sari.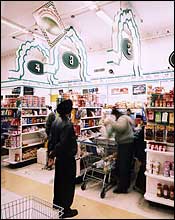 Spice up your life, or at least your diet, at Indian-food mega-emporium Patael Brothers.  
With room for the car, too: a bucolic English garden home.
(1.) Jackson Heights
Merchants Association 37-08 74th St., nr. 37th Ave. 718-651-6971
Jackson Heights is one of the largest South Asian communities in the United States; the Association is collecting donations to tsunami-relief efforts.

(2.) Dosa Diner
35-66 73rd St., nr. 35th Ave.718-205-2218
The tan, tan, and more tan décor at this vegetarian joint is almost parodically bland, but crêpes like lacy rava dosa with chili paneer—a spiced soft cheese—and excellent homemade chutneys are anything but.

(3.) Today's Music
73-09 37th Rd., nr. 73rd St.718-429-7179
A great place to buy Bollywood flicks and Indian and Pakistani music. Snap up bhangra mix tapes from groups like Strictly Punjabi—clattering street music available in both traditional Punjabi and new remixes.

(4.) Patel Brothers
37-27 74th St., nr. 37th Ave. 718-898-3445
A legendary warehouse of a grocery store, stocking everything an Indian cook could desire, from 50-pound bags of basmati rice to gulab jamun (soft cheese balls flavored with cardamom in sugar syrup) to fresh fruit and vegetables.

(5.) Arunee
37-68 79th St., nr. 37th Ave. 718-205-5559
Quality, straight-forward Thai in a traditional and wonderfully garish environment: gold-framed Thai celebs, music videos blaring on the raised television, a mind-bogglingly comprehensive menu, and a table of takeaway sweets.

(6.) Rice Avenue
72-19 Roosevelt Ave., nr. 72nd St. 718-803-9001
As mod as Jackson Heights gets, this Thai restaurant has white leather banquettes, dark tables, decorative rice grass, and excellent duck salad. But if the décor is Manhattan, the fiery spice level is all Queens.

(7.) India Sari Palace
37-07 74th St., nr. 37th Ave. 718-426-2700
Sari stores in Jackson Heights are outnumbered only by 99-cent shops, but this is a good bet. A wide variety of fabric is customized by a local tailor; the average cost is about $50, including sewing.

(8.) Rajbhog Foods
72-37 37th Ave., nr. 72nd St.718-458-8512; rajbhog.com
Lined with Indian sweets—mostly ball-shaped concoctions made of milk, sugar, and nuts that taste something like moist, sticky doughnut holes—this bakery and fast-food eatery is a good place to pick up dessert. Dried fruit rolls melt in your mouth.

(9.) The Eagle Theater
73-07 37th Rd., nr. 73rd St. 718-205-2800
Bone up on ever-more-popular Bollywood at this movie theater adorned with colorful posters.

(10.) Mita Jewelers
37-30 74th St., nr. 37th Rd. 718-507-1555
A wide assortment of Indian jewelry, from earrings to elaborate necklaces, all in very yellow 22-karat gold ($25–$15,000). Check for unique antique-looking filigreed bracelets.

(11.) Butala Emporium
37-46 74th St., nr. 37th Rd. 718-899-5590
Hindu-English dictionaries, CDs, magazines, a four-foot-tall solid-brass statue of Nataraj, the god of dance … and, downstairs, an interesting collection of intricately carved wood furniture.

(12.) Club Atlantis
76-19 Roosevelt Ave., nr. 76th St.718-457-3939
Jackson Heights has a large and active gay community: This megaclub anchors a strip of bars along Roosevelt, drawing out-of-neighborhood crowds with swanky circular dance floors and nightly theme parties, plus a rotating cast of go-go dancers, strippers, talent contests, and a gong show.

(13.) The Music Box
40-08 74th St., nr. Broadway; 718-457-5306
For a less-manic experience, try this twelve-year-old gay bar with pool table, TVs, and a Latin crowd—though there are still D.J.'s, drag shows, or strippers every night of the week.

(14.) Armondo's Italian Restaurant
74-27 37th Ave., nr. 74th St. 718-898-0113
A staple of a previous wave of immigration—Italian—survives intact with chintz wallpaper, black booths, and burgundy wall-to-wall carpeting. Desserts like crispy-outside/gooey-inside cannoli are simply delizioso.

(15.) Tibetan Yak
72-20 Roosevelt Ave, nr. 72nd St. 718-779-1119
Unfortunately, yak isn't on the menu at this hole-in-the-wall (just on the cartoonish murals). But Tibetan favorites like tsel momo (dumplings filled with mixed vegetables) and chili chicken go over well with newcomers to Tibetan cuisine. Authenticity hounds can try chayley—slices of beef tongue sautéed with garlic, ginger, green onions, and green chili, served with Himalayan bread.

(16.) Cositas Ricas
79-19 Roosevelt Ave., nr. 79th St. 718-478-1500
Neon lights, a pages-long menu, glamour shots of huge, greasy platters, and hordes of young people make this the IHOP of Latino Jackson Heights. Enchiladas de carne and chorizo con arepas are especially good with ice-cold cholao, a fruit-and-milk drink.

(17.) Fiesta Mexicana
75-02 Roosevelt Ave., at 75th St. 718-505-9090
There is no Tex contaminating this simply decorated Mex newcomer, just steps from the subway. Taquitos de tinga poblana (soft tortillas filled with shredded pork sautéed with chipotle chilies and onions) are super-juicy.

(18.) Chibcha
79-05 Roosevelt Ave., nr. 79th St. 718-429-9033
This Colombian night spot with live music Friday through Sunday is a great place to have a drink, book a vacation (it's also a travel agency), or rent an apartment (it's a real-estate agency, too!).

(19.) La Porteña Restaurant
74-25 37th Ave., nr. 74th St.718-458-8111
The place to hit for Argentine-style beef (sadly not the real thing, due to import restrictions, but a leaner cut than American). Steaks are huge, but real carnivores should go for the massive mixed grill. There's a full-bodied wine list and full-bodied cowboy décor, too.

(20.) Pio Pio
84-13 Northern Blvd., nr. 84th St. 718-426-1010
The phenomenally moist, flavorful chicken at this crowded Peruvian joint is marinated for twelve hours in garlic, cumin, beer, and salt and pepper. The potent pisco sour—a lime-juice, egg-whites, and brandy cocktail—is only for the headstrong.

Real Estate

Near the commercial drags of Roosevelt and 37th avenues, yet seemingly worlds away, the 36-block Historic District—76th to 88th streets, between Roosevelt Avenue and Northern Boulevard—is full of remarkably well-maintained twenties- and thirties-era co-ops, many designed as block-size buildings built around a common garden. These are some of the most desirable.

(21.) The Towers
80th to 81st Sts. bet. 34th Ave. and Northern Blvd.
Named for the terra-cotta-topped towers on each corner, these eight luxury six-story buildings have only two apartments per floor. A 1,700-square-foot four-bedroom just sold for $575,000.

(22.) Elm Court
79th St. bet. 34th and 35th Aves.
Built in 1922, it's modeled after a Harvard dorm. Each one-, two-, and three-bedroom garden apartment features a sunroom. A two-bedroom costs about $380,000.

(23.) The Chateau
80th to 81st Sts. bet. 34th and 35th Aves.
The ten-building Chateau looks like an Alpine village, and sports elegant European details, including slate mansard roofs and carved limestone entryways. A four-bedroom recently went for $475,000.

(24.) The Mayfair and the Surrey
73rd St. bet. 35th and 37th Aves.
No common garden, but the buildings have charm, with original built-in furniture, plaster, and arched doorways. A one-bedroom runs about $120,000.

(25.) English Garden Homes
86th and 87th Sts. bet. 34th and 35th Aves.
With large rear gardens and single-car garages, these charming semi-detached homes are unique to the area. They rarely come on the market, but a four-bedroom recently sold for close to $759,000.