We've seen it in countless magazines, but we never fail to stop and stare anew. Of the many renderings depicting future apartments in new developments, it looks, well, the most real: that light, those trees, all that beautiful, calming, haute-monastic space. It's the ad for Ian Schrager's first residential project, 50 Gramercy Park North at Gramercy Park Hotel, where the hotelier is building apartments with every five-star amenity, including not having to plan your own dinner party or walk your own dog. Schrager says he sees in residential living the "same opportunity that I saw in hotels and nightclubs before that. It's just a barren wasteland ready for someone to come in and rethink it."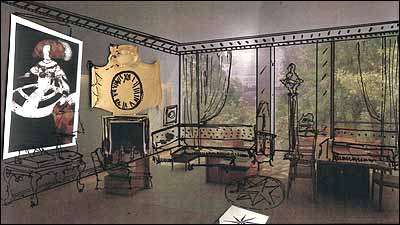 And the rendering he commissioned has evolved from a piece of marketing material into a visual totem for our times. The brainchild of architect John Pawson—known for his Calvin Klein retail temple on Madison Avenue and an actual monastery in the Czech Republic—it instantly conveys a certain sort of luxuriously pared-down lifestyle. Spareness reads as money, and freedom.
But not everybody wants to live so free. So, we wondered, what would happen if we took Pawson's space and handed it over to Miles Redd, a designer with a much more ornate aesthetic, giving him total liberty to digitally redecorate it? Things might turn out just fine. "The idea of working with Pawson" as the architect for the development, says Schrager, "was to provide a blank canvas for people, a modern envelope that would really be receptive to anybody's style, anybody's taste."
Even somebody who loves color and patterns and … curtains? What about a big old classical bust? How would all that work in such a space? See Redd's initial sketch, and the photo simulation to find out.
"The Pawson room leaves me cold," says Miles Redd. "But I think for a modernist it is a sublime space to be in." For a neo-Baroque contemporary classicist like himself, however, it simply wouldn't do.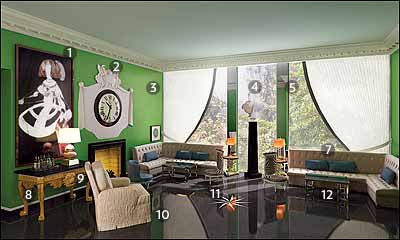 1. The Manolo Valdés painting is a riff on a Velázquez infanta portrait.
2. The clock is a Redd design.
3. Redd finds inspiration in such decorating legends as Elsie de Wolfe and Albert Hadley. The apple-green lacquer paint comes from a Hadley interior.
4. Redd got the idea for the bust from Chatsworth, the Duchess of Devonshire's house.
5. Redd added the extra column to give more balance to the room. He also put mirrors on them.
6. The banquettes are simply from Redd's imagination. Isn't virtual decorating fun?
7. The mirrored tables were inspired by Pauline de Rothschild.
8 All the chairs and the little dolphin tables are from the Jane Engelhard sale at Christie's.
9. The terrazzo floor is inspired by houses designed by David Adler.
10. The lamp is from Coconut Company.
11. The console is from Ann Getty's apartment, photographed by Horst.
50 Gramercy Park North
$8.575 million
Two-bedroom (the real version of which is not yet finished)