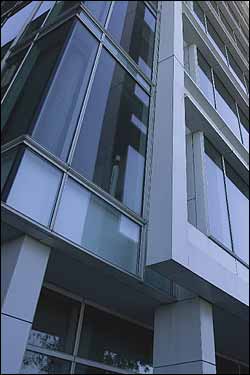 If, as Coco Chanel once said, "Fashion is architecture," then architecture, by way of residential real estate, has become fashion. Apartments—especially in marquee properties like architect Richard Meier's 165 Charles Street—make as much of a statement about their owners as a bespoke Savile Row suit about its wearer. A person who buys in 165 Charles is visionary and exacting, uncompromising on details. Fifty Gramercy Park North: refined. The Urban Glass House: bold. Donald Trump's Riverside South: arriviste.
In other words, real estate has become another luxury good. "In a way, it's the ultimate luxury good," says public-relations guru Harriet Weintraub, whose client roster used to include Christian Dior and Burberry—and who now also reps high-profile buildings.
The selling power of an architectural name has never been so great. Witness Charles Gwathmey on Astor Place and at Windsor Park, Santiago Calatrava at 80 South Street, Robert A.M. Stern at 15 Central Park West. And so "haute real estate" took its bow on the runway. Apartments at Peter Marino's 170 East End Avenue are being branded "couture," and downtown's Cipriani Club Residences "prêt-à-porter pieds-à-terre."
It's almost quaint to remember that "prewar" was once the only magic word. Then there was "everything else": Sheetrock, white-brick curtain walls, ticky-tack. If you did buy a condo in one of those towers on the Upper East Side that sprouted like mushrooms during the Koch administration, you were, most likely, a young guy with no taste, and you'd move to something nicer when you got married. In other words, the newer a building was, the less you wanted to live there. But consider the crowd at the opening of Meier's building at 165 Charles Street in June. They were there at the invitation of socialite Isabel Rattazzi and Calvin Klein designer Francisco Costa, to toast the likes of Ross Bleckner and Carolina Herrera for their contributions to the AIDS community. It was a fête for Meier, too, a celebration of his glass-and-white-aluminum minimalist temple.
Donald Trump's particular brilliance, in fact, is that he figured all this out two decades ago. His Trump Tower was among the first buildings to be marketed thus: If you had the money, you could buy a bit of his glamour. But Trump's building was an outlier. First of all, it was extremely expensive—few people could actually afford to buy there. Then there was Donald's brand itself: ostentatious, shiny, very look-at-me!
The boutique-hotel business has had a major effect, too. It's no coincidence that both Ian Schrager and André Balazs, who began in the nightclub world and progressed to hotels, are now in the development game. They've figured out that a stylish brand that helps us fashion our identities works similarly in all three fields. One could argue that, as their customers grew up and grew wealthier, their focus shifted from clubbing to business travel to nesting. "Why not live in a place that reflects who you are?" asks Schrager.
A lot of the credit for real estate's makeover also goes to Louise Sunshine, the mastermind behind the marketing of many of New York's major buildings. Sunshine honed her branding skills working with Trump and started her own firm, the Sunshine Group, in 1986; three years ago, she sold it to NRT, the parent company of the Corcoran Group, but stayed on as its president. In June, Sunshine's firm fully merged with Corcoran, and now she's moving on, setting her sights beyond New York to unveil glossy new buildings in cities that have cultivated their own wealth obsessions: Palm Beach, Las Vegas, and (soon) Moscow.
Today, buildings like Sunshine's One Central Park and Downtown by Philippe Starck are everywhere. Ads lean heavily on the work of fashion photographers and stylists (Keith Lathrop and Giuseppe Pizzuto for Astor Place) and are accessorized with the likes of Naomi Campbell and Margherita Missoni (Cipriani Club Residences). The brand can even trump the neighborhood. Because property values have accelerated so quickly, neighborhood loyalties often get scrapped in favor of the best deal. (It may be that a fancy new building can make a boring neighborhood—we're talking about you, Yorkville—passable.) Suddenly, uptowners are looking in Tribeca, and East Villagers are taking the A train to Washington Heights. Brooklyn has become cool. Since many of these buyers are style-conscious, they expect refinement, if not at Perry Street levels then to a degree they can afford. Or—and here's a buzzword—"amenities" that elevate their existence to the next level.
"A lady buys a $5,000 Hermès bag because it makes her feel good about herself, and the rest of the world sees the bag and associates her with a certain kind of lifestyle. The same can be said for buildings," says Prudential Douglas Elliman broker Leonard Steinberg, who, significantly, used to design a women's-apparel line. "It used to be location, location, location," adds Corcoran's CEO, Pamela Liebman. "Now it's location and lifestyle. It's not enough to offer an apartment. People want to know what it comes with." They want Miele dishwashers, pietra bedonia stone floors, a souped-up gym (sorry, "fitness center").
We cloak ourselves in these spaces the way we do in designer clothes. If you live for Prada, chances are you'd like the Richard Meier towers in the West Village. (It could become a parlor game: Does Frank Gehry link to Giorgio Armani or Tom Ford?) The parallel holds even more dramatically when you realize that, 50 years ago, the vast majority of clothes was Seventh Avenue stuff, with few brands beyond Brooks Brothers. The label rarely mattered; only the overall look did. It took the likes of Ralph Lauren and Calvin Klein to make fashion into a field upscale consumers felt they could analyze. Today, that design-savvy group of shoppers is much bigger than it used to be. Can't handle hiring Jean Nouvel to design a townhouse? Buy at 40 Mercer. "It's a name you can get a piece of," says Liebman.
If you live for Prada, chances are you'd like the Richard Meier towers in the West Village.
But there are only so many 40 Mercers and 80 South Streets. Hence the rise of "masstige" buildings—prestige for the masses, priced for the well-off but not for the Lear-jet set. These mid-market towers have deluged the scene, creating a uniform, rather sanitized aesthetic. With few exceptions, mass-market condos are often built under a cost-driven approach that references standout properties but dilutes their unique, brilliant natures. (Trump himself says, "You have to do a building that really works … [with] apartments that are livable.") Their kitchens all have granite countertops and stainless-steel appliances; their bathrooms, the same Grohe faucets and Kohler sinks. Rooms are similarly carved—developers often hire the same project architects for interiors. Set the brochures for these buildings side by side and you often can't tell them apart. (All those 38-year-old New Yorkers who grew up in Jersey or Long Island are, weirdly enough, reenacting their Levittown childhoods, except with elevators.) Is a luxury still a luxury if everyone has it?
This rush to the new has affected the rest of the market, too. Turn-of-the-century buildings with meticulously crafted façades are often renovated inside to uninspired newness. Either way, they're rendered Pottery Barn–perfect before they're resold, with the same inoffensive cream sofas and vaguely modern coffee tables. (It's a process known as staging—rendering apartments bland but elegant before they hit the market ready for a buyer's own stamp.) In a city filled with personalities, our spaces are remade to appear unlived-in, a New York without grit under its fingernails.
Sex Pistols manager (and onetime clothing designer) Malcolm McLaren once said, "Punk was just a way to sell trousers." Perhaps architecture—great or not—is becoming just a way to sell apartments. This is where we live now.