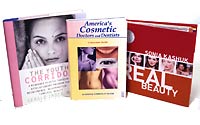 Well Read
By the Books
Feeding the current appetite for information on beauty and antiaging trends, several doctors have written books outlining the various options. In May, Suzanne Levine, a podiatrist, and Everett Lautin, a radiologist, will release You Don't Need Plastic Surgery ($21.95; M.Evans & Co.). The volume will enumerate various nonsurgical techniques—creams, injectables, and other wrinkle fighters—and will include a section on enhancing the look of feet, of course. Dr. Michelle Copeland's new book, Change Your Looks, Change Your Life ($27.95; HarperCollins), examines the opposite end of the spectrum, spelling out various surgical procedures, while plastic surgeon Gerald Imber has taken his popular text The Youth Corridor and turned it into an interactive Website (drimber.com), where he answers readers' questions and updates information continually. Next month, Castle Connolly is releasing America's Cosmetic Doctors and Dentists ($29.95), a detailed directory of cosmetic physicians and dentists in the New York area. And for those not willing to go under the knife or the needle, makeup guru Sonia Kashuk's Real Beauty ($27.50; Clarkson Potter) tells you how to remain radiant through good nutrition, fitness, and a host of makeup tips.
On Your Toes
Sweet as Honey
A far cry from the neon nail emporiums on every other block in New York, Mud Honey has opened a dimly lit, twenties-opium-den-themed salon in ABC Carpet & Home. Manicures and pedicures, available as of this month, are given in hundred-year-old wooden Chinese marriage beds, and cuts and color are done on antique barber chairs. An offshoot of the Soho salon known for its edgy cuts, the new space overlooks the ABC home store's first floor, with its chandeliers and china. Along with classic nail services, Mud Honey offers salt scrubs and stone massage for the feet and natural nail extensions. But despite the theme, there's no smoking. (888 Broadway, at 19th Street; 212-473-7407.)




Editor's Pick
Cashmere Mist Sheer Fragrance
The coming of spring means a new slew of lighter, warm-weather-friendly fragrances. Among this season's most appealing is an alcohol-free spray rendition of Donna Karan's Cashmere Mist. Sheer Fragrance ($58 at Bloomingdales and Macy's), the limited-edition summer version of the classic scent, has notes of Moroccan jasmine, lily of the valley, and bergamot, against a background of sandalwood, amber, and musk. It's light enough to spray in your hair.
Lip Trick
Right on the Kisser
They've done gloss, they've done blush, they've done eye creams for morning, noon, and night, but until recently the labs at Bliss spa had ignored the most basic beauty essential of all: lipstick. Now, with a command to "stop skinny lipping," the spa has released Fabulips, tall, narrow tubes of lipstick in ten shades, with names like Foxy, Bossy, and Hot Chocolate. It slicks on like a creamy lipstick but is loaded with soothing things like Vitamin E and the more mysterious-sounding bisabolol, which conditions your pout. Plus: "It acts like a magnet to your lips," explains founder Marcia Kilgore—which keeps it from coming right off on your water glass ($18, available at Saks Fifth Avenue and Bliss Spas). – AMY LAROCCA