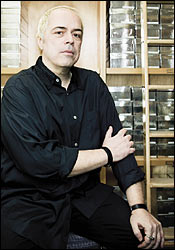 The creators of Sigerson Morrison are named Kari and Miranda. How serendipitous.
I know! They still do everything, from picking the leathers and colors to the designing and making.
How cuckoo for shoes are New York women?
Oh, my God. One lady might come in and say, "Can I try these three?" Sure. I go and get her those, and then another lady comes, and another one, and all of a sudden they all want what the other one is trying on. Can I see the one she's got? Women buy shoes for other women. They judge you by your shoes.
What's the worst tantrum you've seen?
Sometimes I feel like I have a cure to a deadly disease. My favorite was a lady calling from California, who had seen one of our shoes in a certain color, and I said we don't have the color, and she screamed, Well, I saw it! You just don't want me to have that shoe! and hung up on me. And we get people who say, "Can I have the sale price now, because I'll be away in Majorca for two weeks?" Sorry, no.
Are you a shoe aficionado?
Yes. My personal favorite here is a flat, pointy shoe with copper-colored studs in cinnamon brown. If I were a girl, that's what I'd buy, but I'm a women's size 13 and we don't go up that high. The hottest shoe in the store now is a flat, closed shoe with an Indian-Moroccan look, gold stitching, freshwater pearls, and crystals. They're really soft and easy to wear. You just put them on with jeans and a T-shirt and boom!—you're dressed.
How important is foot care?
I've learned that, more than shortening toes, bunion surgery is popular. I really don't like it in the summer when girls walk around in flip-flops, their feet are really dirty, and they just want to put their foot into the shoe.
Is that your biggest peeve?
No. Put this in bold letters, please: We put a size 7 on the floor, and women who are really a size 9 keep shoving their feet into them. And I'm like, "Oh, can I get that for you?" and they're like, "I just want to see what it's going to look like!" How can you tell? It's like putting a doll's dress on your arm.
What's your top shopping tip?
Go by yourself. You're your own best friend. I'll see a woman who's shopping with a girlfriend who doesn't have any money that day and she's like, "Ew, you're going to buy those?"