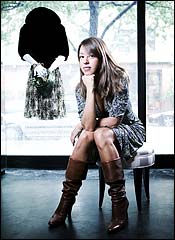 You must live in wrap dresses.
I probably own fifteen. I wear them on Mondays when I can't figure out anything else.
Is this one your favorite?
It's my newest; it's from this season's vintage collection. Twice a year, we put out eight dresses using prints from the archive. They're so popular.
You look very sultry in it. Is there a proper way to tie them?
People don't pull the sash through far enough.
Ah, then it flops open, and gets too revealing.
Exactly.
I heard the store is re-locating.
Hopefully next spring, to the corner of 14th and Washington. We'll have a VIP suite and more fitting rooms, thank God.
You have only two now. Does that lead to piggybacking?
On a busy Saturday. It's really gotten so much busier in the last year.
Why?
The collection has become more"designer." I'd like to think it had something to do with me. I'm the buyer and manager.
Are you friends with other DVF girls?
We all hang out together. We go across the street to Tortilla Flats.
I'm sure the bartender looks forward to those nights. Which is the best DVF little black dress?
There's a black tuxedo one with a satin lapel.
You helped my boyfriend buy me one last Christmas.
Boyfriends are normally confused. Or we get the well-equipped male tourist who comes in with sheets printed out from the computer and is like, "I need three of these dresses."