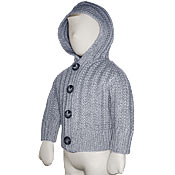 Why? The only thing more important than keeping yourself warm in winter is keeping your child warm. What better fabric than cashmere to do it? Made from kids for kids, Banana Republic's four-button hooded cardigan is woven out of Mongolian goat yarn—said to be the finest in the world. It feels thicker and more luxurious than most cashmere sweaters,at much less than the usual going rate of several hundred dollars, and, like the rest of Banana's baby collection, it's available only during the holiday season ($98 in sizes from zero to 24 months at select Banana Republic stores; 888-277-8953 or bananarepublic.com. After all, even kids can appreciate a little extra softness; it'll remind them of their baby blanket.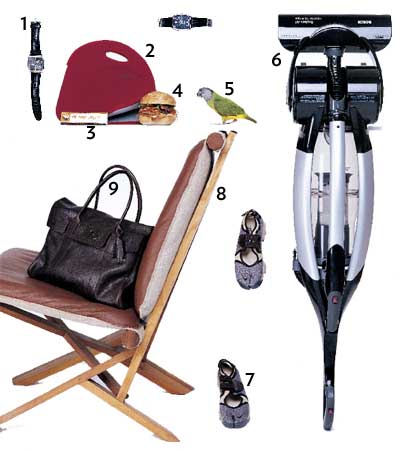 (1) Perpetual-calendar watches—you never have to adjust the date—can cost thousands of dollars. Timex's new collection is $62.95 to $79.95 (timex.com).
(2) Built NY's neoprene BYO Lunch Bag keeps warm food and cold beverages separate, and it folds open into a place mat ($26; builtny.com).
(3) Nothing's better than peanut butter and jelly—except peanut butter, jelly, and chocolate, as in the Retro Bar ($3 at Gourmet Garage; gourmetgarage.com).
(4) At the theater district's Carve, sandwiches are made with freshly carved meats and local vegetables ("the New Cobb" is $9; 212-730-4949).
(5) Senegal parrots don't need much space, they're quieter than other breeds, and they like to cuddle—perfect New York–apartment pets (from $550 at Birdcamp; 212-471-0228).
(6) Bosch's Bagless Jet Upright Vacuum is not only beautiful, it also boasts a twelve-amp motor ($199 at J&R Music World; 212-238-9000).
(7) Conservative wool herringbone becomes edgy on an Air Rift sneaker ($100 at niketown.com).
(8) Pierre Chapo is finally getting posthumous recognition: His La Chaise Dromadaire is ash wood with a leather cushion ($6,000 at Guéridon; 212-677-7740 or gueridon.com).
(9) Mulberry's coveted luxury handbags are now available Stateside (Bayswater Bag, $995 at Bergdorf Goodman; 212-753-7300).