Why? Chimes Ginger Chews' original recipe dates back three generations (and has been popular in Indonesia for years), but the sweet, spicy, and practically addictive chewy treatis only now hitting New York deli counters. The ginger that gives the candy its zing is grown on volcanic soil in the shadow of Mount Bromo in East Java, stone-ground to extract the essence, and made into a taffy-textured candy that packs a latent punch. (About fourteen individually wrapped pieces per tin, $1.99; roxytrading.com.)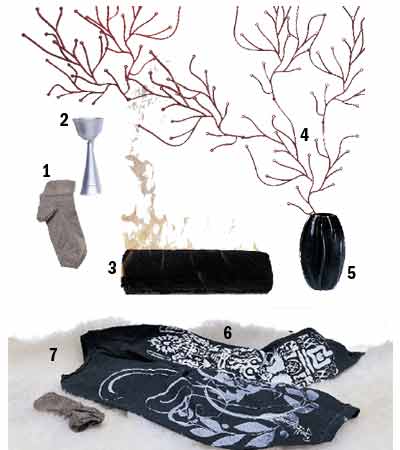 (1) Why? The special weave of Falke's wool or cotton socks keeps them in place without being too tight; $15 to $25 at the Town Shop (212-724-8160 or townshop.com).
(2) Marilyn Davidson's sleek kiddush cup for Nambe is $85. Available at Bloomingdale's.
(3) Duraflame's All-Natural Firelog burns 75 percent cleaner than regular firewood. About $3.50 for a five-pound log (duraflame.com).
(4) Making a screen from these plastic parts by the award-winning Bouroullec brothers is a creative challenge (and a bargain); $25 for a set of six, or $200 for a box of 50, in many colors, at Vitra (212-463-5700 or vitra.com).
(5) Lalique has just reissued five vases in stunning black crystal; $800 to $4,900 (212-355-6550).
(6) There are only 100 of these art-you-can-wear T-shirts, made by graphic designer and graffiti artist Ryan McGinness; $100 at the New Museum of Contemporary Art/Chelsea (212-343-0460 or newmuseum.org).
(7) Sheepskin's soft plush is cool in summer, cozy in the winter. Rugs start at $90; 32-inch square pillows are $160 (800-926-9766 or bowron.com).