The Best Bet
You've spent several months wading through slush in serviceable, weatherproof, but not exactly exciting, footwear—your first spring shoe should be frivolous and slightly impractical. Ralph Lauren's Alexis d'Orsay pump, with its mix of cream canvas and silver lizard on a skinny stacked wood heel ($895; 212-606-2100), sums up the Daisy Buchanan spirit of the season. That pristine gleam may not last once the d'Orsay hits a few damp city sidewalks—but isn't that what a spring fling is all about?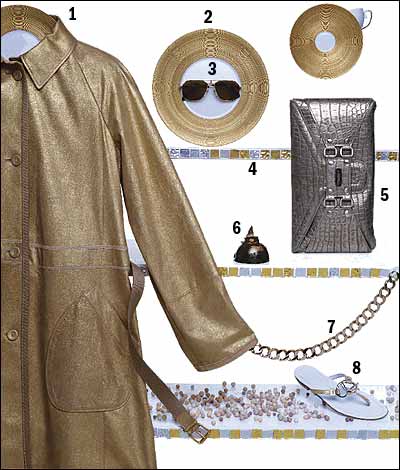 Photograph by Jennifer Karady
(1) Just weighty enough for cool spring days, Bottega Veneta's suede trench ($4,700 at Bottega Veneta; 212-371-5511) is cut stylishly narrow.
(2) The delicate hand-painted pattern on Jean-Louis Coquet's Hemisphere china will enrich your table (matte gold teacup, $70, saucer, $60, and dinner plate, $95, at Michael C. Fina; 212-557-2500).
(3) Selima Optique's "Zeke" sunglasses pave the way for the return of the oversize frame ($205 at Bond 07 by Selima; 212-677-8487).
(4) To get that inimitable gleam, Bisazza mosaic tiles seal 24-karat-gold leaf between glass ($532.75 per square foot at Bisazza; 212-334-7130).
(5) Donna Karan's metallic alligator clutch is a stellar example of the small-bag trend ($4,980 at Donna Karan; 212-861-1001).
(6) The smattering of gold dust used in François Payard's Louvre pastry is completely digestible ($5.25 each at Payard; 212-717-5252).
(7) Fulco di Verdura's subtly heavy curb-link chain, introduced in the early forties, is one of his most enduring (and copied) designs ($19,250 at Verdura New York; 212-758-3388).
(8) Thanks to streamlined versions like Tod's python thong, flats are finally in ($445 at Tod's; 212-644-5945).
(9) Guerlain's multicolored Météorites face powder makes skin shimmer without slickness ($45 at Saks Fifth Avenue; 212-753-4000).