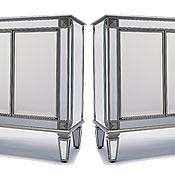 The Best Bet
This mirrored wooden console from Bombay Company ($449; 900 Broadway, at 20th St.; bombaycompany.com for more locations) is the perfect fit for New York apartments. Its gleaming surface makes it an accent piece—and a light-reflecting boon to dark spaces—but its squared-off lines are subtle enough to happily cohabit with almost any décor. Factor in relatively diminutive measurements and itsstorage function (shelves are adjustable), and you have a console that meets the demands of the cluttered spaces in which we often live. The beveled edges give it a kind of Hollywood-in-the-thirties feel, but the price is well within the grasp of ordinary mortals.
Sony's PlayStation Portable, on sale Wednesday, could be the iPod of video games; it plays music and movies, too ($249.99 at Sony Style; 212-833-8800).
Meryl Waitz's new collection of Mali wood necklaces accented with vintage gold beads is elegantly beatnik ($160 to $185 at the Clay Pot; 718-788-6564).
This hand-crocheted pima cotton skirt sizes the season's bohemian looks for little ones ($170 at Bu and the Duck; 212-431-9226).
Now dog collars are vintage, too: These seventies vinyl numbers just emerged from a Queens warehouse ($45 at the Barking Zoo; 212-255-0658).
After 75 years, Vichy Laboratoires' legendary beauty products are finally available Stateside. They all use Vichy Thermal Spa Water—filtered through volcanic layers, and rich in mineral salts ($5 to $34 at CVS, Walgreens, and Duane Reade).