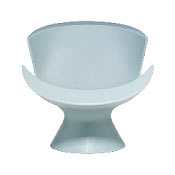 A High-Design Chair That's Perfect for Summer
Karim Rashid's Kite chair is comfortable and functional—it's light, waterproof, and UV-protected, so it can be left outside year-round ($478 at Design Within Reach; 212-888-4539).








Plastic Plates With Class
Jill Fenichell's unusually pretty melamine dishes break the drab plastic mold ($6–$10 at Barneys New York).
How to Look Good on the Beach
Stripes make men seem slimmer, too. These colorful Italian cotton trunks are by Gant ($94.50; 212-813-9170).












Pills and Powders That Pack
Apivita's mix-and-match exfoliators, facial creams, and masks screw together into an easily manageable stack ($25 for two at New London Pharmacy; 212-243-4987).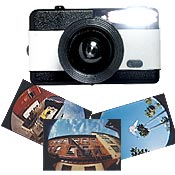 A New Way to Take Wacky Holiday Photos
Compact a 170-degree view into a circular image with the Lomographic Society's Fisheye camera, the world's first 35-mm. with a built-in fish-eye lens ($50 at Flight 001; 212-691-1001).