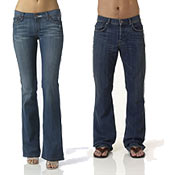 Posted April 22, 2005
Nothing gets between a New Yorker and her Calvins (or Sevens, or Papers, or Kasils)—nothing except an almost-bare bank account. If you're starved for designer denim but also strapped for cash, here's a little online secret that's sure to help: Scoop NYC's online outlet. The chic shopping destination sells its denim surplus (along with other overstocked designer duds) online for almost half its original price, meaning you'll get Marc Jacobs jeans for $99, a pair of Matthew Williamson's for $109, and these James jeans (pictured) for a mere $69. With deals like these, you can even afford to snag a pair for your boyfriend—convenient, considering the Scoop Outlet also has a men's section.
$69-120 for jeans at scoopnyc.com.