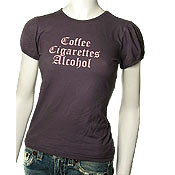 Posted September 9, 2005
Before Juicy Couture launched their infamous line of Technicolor tracksuits, they made saucy tees that said things like "Prince William is a Fox." Now that Juicy is devoted to all things terrycloth, their closest successor is the t-shirt line Smashing Grandpa. Named for Rolling Stones frontman Mick Jagger, the shirts are made of snuggly soft cotton and advertise everything from breakups ("I never loved you anyway") to big dreams ("famous groupie: CHECK"). I like this one because the colors are sweet, the fit is perfect, and it endorses my three favorite vices—besides shopping, of course.
$44 at pinkicing.com.