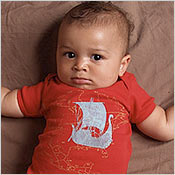 Posted November 25, 2005
Does Coldplay lead singer Chris Martin read Best Bets Daily? I don't know, but what I can tell you is that after BBD covered Brooklyn-based Little by Jenny's spring line, Martin showed up in Us Weekly looking (typically) cute as hell in a Little by Jenny tee. Now, even Martin's (and Gwyneth Paltrow's) kid, Apple, can get Little—really Little—because the latest line includes a range of super cool (sweatshop-free, all-cotton American Apparel) baby tees. They're hand screen-printed at Little by Jenny HQ in Williamsburg and they're available in four sizes (3-6m, 6-12m, 12-18m, and 18-24m).
$25 at littlebyjenny.com.