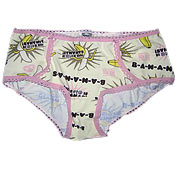 Posted December 9, 2005
I'll never look like Gwen Stefani (sigh), but at least I can get in her pants (sort of). These crazy intimates from her newest line, Harajuku Lovers, have the infamous lyrics from her Hollaback Girl song (you know which ones!), plus goofy banana print and frilly pink trim. The low-ride cut ensures they stay hidden under jeans, but with these flirty graphics, you might not want to keep them so secret.
$44 for a set of three at fredflare.com.