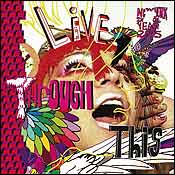 Posted August 18, 2005
Now that the New York gallery scene has settled into its usual August heat-induced coma, you can find the best art show in town between two covers at your local bookstore. The newly released Live Through This: New York in the Year 2005 is an oversized anthology produced by celebrated SoHo-based art gallery Deitch Projects. Grandiose subtitle aside, this 114-page soft cover book is basically a sort of visual love letter to the vibrant, anarchic scene surrounding Deitch itself (a scene that actually reaches far beyond the city limits). Edited by Jeffrey Deitch and his co-conspirator and fellow art-world impresario Kathy Grayson, the book feels like a raucous, deeply personal scrapbook, with hundreds of art-installation shots, tossed-off snapshots, and Polaroids by and of artists and performers who have floated in and out of the Deitch scene, including Ryan McGinley (famously the youngest artist ever to have a solo show at the Whitney Museum), Phiiliip, Le Tigre, Fisherspooner, and Assume Vivid Astro Focus, along with cameo appearances by such art world legends as Yoko Ono and Larry Clark. The book is rowdy, funny, sentimental, a little shocking, and a lot unfocused—just like the music-obsessed, fashion-forward, post-punk, skateboarder/graffiti/collage visual culture it celebrates.
$19.80 at amazon.com.