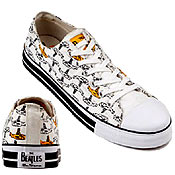 Posted June 28, 2005
Call me prissy, but I don't understand those skull sneakers. You know what I'm talking about: the slip-on canvas shoes stamped with dead heads and spotted absolutely everywhere. I appreciate punk culture, but when I see someone wearing a skull and crossbones, I wonder if they're from a pirate ship. That's why these Ben Sherman sneakers made me smile. They have the same silhouette as their skeletal counterparts but with a twist: instead of skulls, you get yellow submarines, still weird and irreverent, but way more sweet. And spare me the lecture about skulls representing freedom and truth—to me, it still looks like a Six Feet Under promo.
$58 at Michael K., 512 Broadway, near Spring St., 212-334-9088.
• Not available online
• Store Review and Details