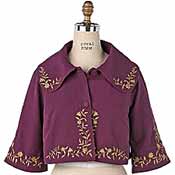 Posted October 4, 2005
Picture this sweet Swinger Jacket over a white tank, with a pair of great jeans and heels. Its retro 60's cut blithely defies this season's goth girl trend, but who cares? The sweet bell sleeves, cropped fit, and creamy ivy embroidery make it adorable and sexy all at once. It's versatile enough to go from day to night, works well with a pencil or circle skirt for the office, and right now, it's under $50 (originally $88). Are you swooning yet?
$45 at anthropologie.com.