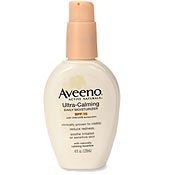 Posted November 8, 2005
I recently met with a popular facialist for the first time. She pored over my pores and then remarked, "your skin is very good—what moisturizer do you use?" I fessed up—this new stuff from Aveeno, which costs less than my lunch. Dubbed "ultra-calming," the lotion is oil-free, with SPF 15 and a (kept) promise to soothe and hydrate skin. It smells simple and mild and feels luxurious on my face. The renowned facialist agreed—after my appointment, she handed me a bag of her own products, minus her signature face lotion. "You can keep the one you've got," she assured me. Don't worry, I'm planning on it.
$7 at Duane Reade, multiple locations, duanereade.com.
• Not available online
• Store Review and Details