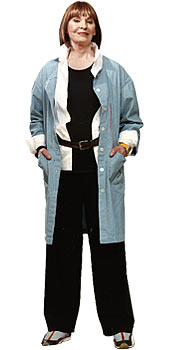 I live at the 26th Street flea market. Janet West is the dealer I love. She's almost like a curator. She sells ephemera, which I use in my collages, and Dream Boxes—fish lures ($3), dice ($2), a heap of black-and-white photographs ($18), blonde "Marilyn" hair ($25). I used some in a piece called "Marilyn and me and a few others." The way it's styled, it looks like you're looking at her from the back. We were friends. But she was very elusive—one would never make dates, you know. We'd see each other at parties.

What I'm really always looking for at the market are baby dolls ($50). They have to have a certain look, like they need attention. One time I found a box that was filled with nine identical celluloid dolls. That was my biggest score that I'd love to buy again. Chip Kidd, who designed my book jacket for It Seemed Important at the Time, was visiting my studio one day. He saw one of my doll heads, which is actually a hat stand, and asked if he could borrow it. It became the book jacket for Donna Tartt's The Little Friend. The next place I'd go is to Patricia Von Musulin's studio for a necklace made of golden-brown pearls ($1,600). It goes with my hair, I like to think.
Shopping for clothes is easy. Issey Miyake—that's it. My one and only. The one on Hudson Street is like a museum. I'd buy a pair of shimmering-green-and-copper Foil Moon sneakers ($560). And two pairs of opera knee socks ($80). They have a marvelous harlequin print and look as if they're dusted with gold.
I'd have lunch at Fred's ($63.09), for their French fries. I don't like facials—I always feel like my face is being mauled. But I would get three Shiatsu massages from Biko ($450). I found her through Judy Collins. She comes to your house. She's extraordinary. It's not like a body massage with creams and oil. It's all about pressure points. I don't do yoga. I do meditate, but it's sort of my own involvement.
I've been in the east side of midtown a good part of my life. There's a restaurant called La Mediterranée that's been here for years and years and years. It's kind of a local hangout. They always have beautiful peach-colored roses on the table, and in the evening there's a piano player whose name is Harold. He plays all these wonderful old songs. There's a dish there that I always have. It's half an avocado stuffed with shrimp or crabmeat ($10.95), and it's absolutely delicious.
I don't need a car because I live in the city, but I guess the last thing I would do is buy back the old car I used to have when my children were little. I can't think of the name… . It was black, and it had an inside that was silver that started peeling very early on. The kids were so embarrassed, they'd ask me to park it around the corner. But I just adored that car. I could really connect with it. When they discontinued them, I came on Anderson's show to talk about it. Oh, I know—it was a Camaro ($1,700)!
Reality Check
What She Really Spent Today
Taxis ($20).
Peanut butter and currant jelly at Azure ($7.99).
Peonies ($10).
America's Women, by Gail Collins, and The Secret Life of Bees, by Sue Monk Kidd, on Amazon.com ($28.81).
Chanel Vitalumière foundation at Barneys New York ($50).
Glitter paint in silver and copper at Pearl Crafts ($4.96).
Total $121.76