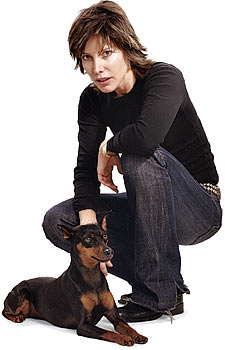 My dog, Cherry, is very popular. She hangs out at the salon and jumps on ladies' laps. I love it. She's a "mini pins"—mini Doberman pinscher. People send her things constantly: sweaters, treats. She won't wear shoes, but she likes to wear jewelry around her neck. I'd get her a new YSL collar and leash ($495). And a beautiful steak from Lobel's ($35).
I already have two Hermès Birkin bags in black, but I'd love a great purple one ($26,000). I travel a lot, so a book of letters by Truman Capote ($27.95) would be great to have. I'm more of a read-to-learn type, as opposed to read-to-get-lost. I never see movies. Not even the ones that my clients are in.
When I shop I like to customize. There's a value in uniqueness. I'd special-order two Lucien Pellat-Finet cashmere sweaters ($2,200 each), one in navy blue with a lime-green skull on the back, another in pink with an orange peace sign. And I'd buy aviators at Oliver Peoples, and have them make colored lenses for me. I already have rosy pink, but I'd love a gold and a green ($385 each).
Right now I'm much more interested in furniture and art than clothes. My apartment in New York is a penthouse with floor-to-ceiling glass windows—it's a jewel box in the sky. I buy whatever Joe D'Urso, my decorator, tells me to. There's a very low Gio Ponti dresser I'd get at Wyeth on Spring Street ($21,000), and a Jacobsen black leather egg chair for my bedroom ($9,000). I'd order custom queen-size orange sheets from Duxiana ($620). The look is sexy, but it's spiritual, too.
I just bought a Helmut Newton, so I'd also order three Avedon originals ($141,500) from the Fraenkel Gallery in San Francisco. There's a Cindy Sherman at Phillips called Untitled #92 ($478,400) that I died over. Her photography really makes me laugh. There's a Warhol in my salon, but I'd love the Nine Multicolored Marilyns ($1,038,400), too.
I have a really nice kitchen. Top-of-the-line everything. But the only thing in my fridge is something a friend left. If I get really hungry, I'll call downstairs and get slices of cheese and turkey or trail mix. I eat out all the time. So I'd buy dinner for six at Freeman's ($529.05), go to Strip House for steaks ($560), and take everyone from the salon to Per Se at 7:30 p.m. ($6,000). I went there last week, but we had a 9 p.m. reservation. It was way too late to be eating like that.
I don't like to drive that much, but I love certain cars for their design. I'd special-order a Porsche 911 Carrera 4S Cabriolet ($140,000). They went back to the old headlights; it's so genius. For my house in East Hampton, I'd get a Boston Whaler 305 Conquest ($162,918) with a 600-horsepower engine as well as a new surfboard from Main Beach Surf & Sport ($1,200). What I'd really like to buy is the house next door to mine, but that's not in this budget.
Reality Check
What She Really Spent Today
Two soft-boiled eggs with a croissant at Sant Ambroeus ($9)
Ricola lemon-mint throat drops and Cetaphil at Duane Reade ($12.78)
Malin + Goetz body scrub from Jeffrey ($35)
One cupcake at Magnolia Bakery ($1.75)
Dinner for four at Babbo ($570)
Total $628.53