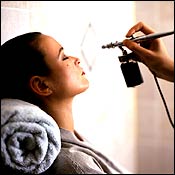 Acqua Beauty Bar
7 East 14th Street (212-620-4329)
$65, $75 for contouring
Application: Fifteen minutes to apply, twenty minutes to dry. The technician gets every crevice, but disposable panties leave horrendous, too-high tan lines.
Mess factor: Vaseline is applied to fingers and toenails, so your cuticles are safe. Stickiness lasts for about 30 minutes.
Duration: The next day's shower took a great deal off; by day five, our tester was pasty again.
Realism: More like a day at the beach than a week in Jamaica.
Rating: 3
Brazil Bronze Glow Bar
580 Broadway, near Prince Street, Suite 203 (212-431-0077)
$50, $80 for contouring
Application: Ten minutes to apply, five minutes to dry. Save yourself $30 and skip the contouring: It doesn't make much difference.
Mess factor: You'll feel a bit tacky for a while, so wait as long as possible before you dress.
Duration: Fabulous until splotchiness set in on the sixth day.
Realism: Friends will be begging for all the gossip from your vacation.
Rating: 5
Maksim Spa
80 Fifth Avenue, Suite 1208
(212-414-9434); $80
Application: Twenty minutes to apply, ten minutes to dry. The spa ran out of disposable panties, so our tester had to get naked.
Mess factor: Barely any mess, and the solution didn't run on clothes or sheets.
Duration: Spa claims seven to ten days (ten to fourteen with exfoliation). Tester got a solid five.
Realism:> Maksim tans the face and neck darker than the body—fine in the long-term but awkward if you want to hit the pool immediately.
Rating: 3 Bliss Spa
568 Broadway, near Prince Street (212-219-8970);
19 East 57th STreet (212-219-8970); $100
Application: A shower is followed by 40 minutes of spraying and 20 minutes to dry. You could be there for an hour and a half.
Mess factor: You won't feel completely dry until a shower the next morning, and the tan still flakes when you touch your face or scratch your arm.
Duration: Four days.
Realism:> Our tester was told she'd be able to pick the shade, but later learned Bliss stocks only one color. It was too dark: "When I woke up the next day, I literally screamed because I looked like Tara Reid."
Rating: 2
Anushka Day Spa & Cellulite Clinic
241 East 60th Street (212-355-6404)
$39 color, $69 body buff and color
Application: Fifteen minutes to apply, ten to dry. An even tan with absolutely no streaks—and, even better, it disguised veins and other flaws on our tester's legs.
Mess factor: Some color came off on a gym towel after a run the next day, but not enough to be noticeable.
Duration: Five days.
Realism: Perfectly natural glow means you'll plan your next top-up right away.
Rating: 4
INSIDER ADVICE
Tips on the perfect fake tan from Brazil Bronze Glow Bar owner Sally Blenkey-Tchassova.
1. Technicians have a lot of control and can generate many different effects. Don't be afraid to say you want something subtler or darker than they suggest.
2. Clients with a pale complexion shouldn't go too dark: You'll have a dirty fade. More solution isn't guaranteed to make the tan last longer.
3. Sunscreen is corrosive to an airbrush tan. Put on one application of a higher SPF instead of continually reapplying. And take heed: DHA, the active ingredient in tanning solutions, will stain leather car seats.
4. Wear what makes you comfortable during the application: underwear, paper underwear, or nothing at all. Don't be embarrassed; try to relax, and you'll walk out feeling great about yourself.
5. Hands and feet pick up color in a different way and can give your tan away as a fake. An experienced technician will add a touch of color to both.