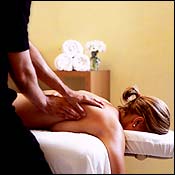 Just Calm Down
32 West 22nd Street (212-337-0032)
Jewelicious massage, $95 for an hour.
PROS: You customize the experience, choosing the oils and music (from Beethoven to Britney). So though the place feels New Age, you won't be stuck listening to Enya. The feel-good touches don't start and end with the hands (the receptionist calls everyone honey).
CONS: No locker room, steam room, or sauna. You leave the place still covered in oil.
RATING: Three stars
Spa at Equinox
97 Greenwich Avenue (212-620-0103)
Swedish massage, $90 for 50 minutes.
PROS: Skip stretching! You can go straight from workout to rubdown in Equinox's new full-fledged spa. Our masseuse expertly relieved spin-class strains, and the effects lasted for four days—all this from the Swedish massage (sports massages, too).
CONS: The guilty feeling you get padding around in a robe while everyone else is pumping iron.
RATING: Four stars
Soho Sanctuary
119 Mercer Street (212-334-5550)
Sanctuary massage, $110 for an hour.
PROS: This cozy women-only, blonde-wood loft is so mellow and Zen that you feel like a better, cleaner person the second you arrive. The locker room, sauna, and showers are immaculate.
CONS: Pressure-pointing techniques leave you feeling fabulous, but are a bit painful.
RATING: Four stars
Graceful Services
1097 Second Avenue, near 58th Street (212-593-9904)
Standard massage, $60 for an hour.
PROS: Sure, Chinese qi gong massage parlors are inexpensive, but they're also known for bad hygiene and assembly-line service. Not so here, where crisply made beds are separated by breezy curtains and the rubdown is divinely deep.
CONS: Not a luxe spa-type event.
RATING: Four stars
Peninsula Spa
700 Fifth Avenue, at 55th street (212-956-2888)
Swedish massage, $110 for an hour.
PROS: The spiffy locker room with steam room, sauna, and attentive staff. After a massage, you can relax further with a drink at the roof bar.
CONS: The massage is too oily, and the treatment rooms need an update: The linens felt soggy, and the red lights in the ceiling lent a seedy feeling to the whole operation.
RATING: Two stars
Shija
37 Union Square (212-366-0706)
Swedish massage, $110 for an hour.
PROS: The femme décor at Shija (formerly Brigitte Mansfield) is complete with plush white carpeting and petal-strewn treatment rooms. In an industry where reiki rules, the lack of New Age touches is refreshing. Masseuses focus on kneading knots into butter—not on aromatherapy.
CONS: The building's a dump. But the biggest drawback? Going every day would be far too expensive.
RATING: Five stars
Yi Pak
10 West 32 Street (212)594-1025
Standard massage, $100 for 90 minutes.
PROS: Masseuses wearing bras and underpants loofah, massage, dance all over your back, cover you in hot milk and cold cucumbers, and wash your hair. You leave incredibly soft and with the muscle control of an overcooked strand of spaghetti.
CONS: Nonstop views of other naked patrons (about six to a room), B-movie-set vibe.
RATING: Three stars
INSIDER ADVICE
Nici Castro of Soho Sanctuary's tips for booking a massage.
1. GOT A CONDITION? Talk about it while booking your appointment. For example, if you're pregnant, ask for a therapist who's trained in prenatal care.
2. DON'T BE AFRAID to communicate. If the pressure's too much, or too little, speak up.
3. BE SEXIST. You should always be able to specify what gender therapist you prefer.
4. DON'T REACT BADLY. Discuss any allergies when you're on the phone with the spa. You never know what's in those oils.