Bu and the Duck
106 Franklin Street
212-431-9226
If the events of the past month haven't made you want to join the baby boomlet, Bu and the Duck, with its hand-knit sweaters, soft embroidered onesies, and alpaca overcoats, will. They make childhood look like a lot of fun – and terribly chic. (The shoes alone are worth the trip: Boots are covered with perfect stitching, and the navy-blue T-straps look like they could be worn by Madeleine.) Owner Susan Lane opened the shop three and a half years ago after a career spent designing for adults, and after three weeks behind the barricade, Bu and the Duck is accessible again. "Everybody's helping each other, and we're going to be okay," says Lane. After all, everyone loves to celebrate a new baby.
Hattitude
93 Reade Street
212-571-4558
Sometimes what you need is good old-fashioned luxury, and Hattitude has it in spades. The four-year-old boutique has the feel of a fabulous boudoir, where every available surface is dripping with something feminine, like marcasite earrings or sweet lip balm. Though Hattitude was closed for the six weeks following September 11 – "People couldn't get down here," says owner Wendy Carrington, "and there was a lot of sadness" – the shop is hoping to lure customers looking for that winter essential (and their specialty): hats. If you're not a hat person (and let's face it, not everyone is), consider picking up one of Hattitude's luscious peacock-feather fans. They generate heat all on their own.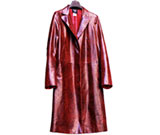 Jimin Lee Translatio
13 White Street
212-219-9146
TriBeCa-based designer Jimin Lee's shop stands in stark contrast to the destruction just blocks away. It's a soothing, loft-style space, all clean wood and open spaces. And Lee's clothes are equally bright and sleek and neatly constructed, inspired largely by her childhood in South Korea and the Philippines. The shop opened in April 1999, across the street from Lee's home, and is the only place in the world that houses her complete collection, which is sold throughout Asia. But while you'll be drawn by the clothes, you'll stay for the atmosphere: It's the shopping equivalent of a day at the spa.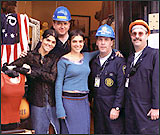 Sorelle Firenze
139 and 1/2 Reade Street
212-571-2720
There are lots of beautiful stores in Manhattan, but certainly no one would disagree if you were to describe Sorelle Firenze as the most charming. It's a tiny, four-year-old shop run by Italian sisters Barbara and Monica Abbatemaggio (pictured, left, with some new friends), and everything inside seems to be touched with a bit of lace or sparkle. Alongside items by small, independent designers – like the delicate satin slip tops by Lucy Barnes, and soft cashmere sweaters and wool dresses by Italian designers not available anywhere else in the U.S. – there are clothes the Abbatemaggios designed themselves (including Barbara's wedding dress, on which the delicate lace was hand-beaded by her mother. This is not for sale. "I just like to look at it," she says, giggling). "At first, when the attack happened, we had some doubts," Barbara admits. "Now we never want to leave."
Sunrise Ruby
141 Reade Street
212-791-7735
Sunrise Ruby is truly a neighborhood store. It stocks the clothes that women in TriBeCa like to wear: low-rise jeans (by Juicy Couture and Seven), sexy lingerie (James Perse Standard T-shirts and Cosabella thongs), and select vintage pieces. It also sells great items by TriBeCa residents, like Western-inspired Tru Tru bags by Karen Sachs, who lives right down the block. Other locals contribute to the racks in a different way: selling expensive designer mistakes (a Michael Kors tunic, for example, and studded Yves St. Laurent pumps) on consignment. Which, of course, is helpful no matter what neighborhood you come from.