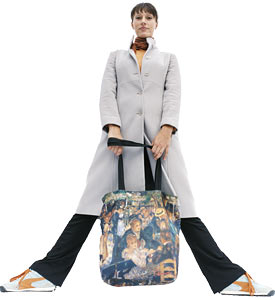 What are you doing today?
Taking a break from rehearsal—I'm in Dirty Rotten Scoundrels with John Lithgow. I play one of the women who get conned by the scoundrels. We're all singing actresses, but in this show I also do quite a lot of dance.
Have you been in a lot of Broadway shows?
I have, knock on wood, been working on Broadway for the past five years. I've been in Seussical, The Boys From Syracuse, and I replaced Jane Krakowski in Nine. I would have to say that was my big break. It was like lightning struck and I happened to be there.
What are you wearing today?
I stole the bag from my mom the last time I was home in Louisville. She's a huge fan of art, and she always picks up knickknacks when she goes to museums. Everything else is just rehearsal clothes. It's my daily wardrobe—when I'm spending twelve hours a day at the theater, I aim for comfort, and then if I can brighten my day with a little color on my Puma tennis shoes or on my coat, I go for it.
What's your skin regimen?
Stage makeup must be really heavy. I did a very brief stint modeling when I was younger, and the biggest rule they used to tell us was that unless you're working, keep stuff off your face. I would rather die than go without mascara, so unless I'm onstage, I stick to mascara, a bit of lip gloss, and some SPF moisturizer—I like the yellow Clinique one.
What's the worst thing that ever happened to you onstage?
I've had a top fall down, I've run into things—actually, I just ran into a wall during a dance sequence three days ago.