William Hyatt Gordon, Real-Estate Developer, Main Beach
Tell us about those trunks.
I got them at Burberry on 57th Street. They make a statement without making too much of a statement.
They're very Euro. Do they give you wedgies?
It's not a thong or anything.
Have you ever taken it to the next level?
I tried out a thong at Cabo San Lucas, but I got rid of it pretty fast. I wouldn't do that in the U.S., obviously. Thongs have got to be one of the most controversial things right now for guys.
Do you feel pressure to wax your chest hair?
The smooth look is really in, and maybe I rebel against it. I've thought about it—there are all these self-shavers now. I've seen the infomercials. But it's a time-consuming procedure. And a lot of girls think it's weird.
Do you have a house in the Hamptons?
No. When I come I stay with friends. My ultimate goal is to have a picturesque beach cottage in Amagansett. Aesthetically, I'd borrow from the Jackson Pollock era and the contemporary surfer world.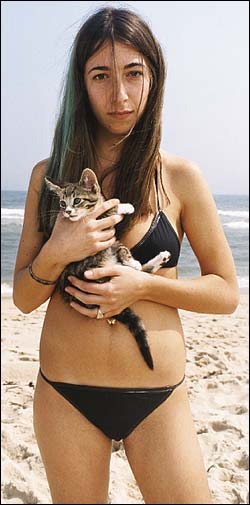 Zoe Swartz, Mount Holyoke Student, Main Beach
What's your cat's name?
Hosanna. It's some sort of Rastafarian religious term to praise God.
Do you always take cats to the beach?
No. My other cat is this sort of old woman with a fragile sense of dignity. She wants to be home on her bed, cloistered and alone, eating Fancy Feast.
Does the cat help with picking up guys?
Actually, it's usually gay men who are interested in the cat. He's a social lubricant on their dates.
Do you dye your hair?
Yeah, with Punky Color. I do blue on one side sometimes. It tends to fade in the sun. It's green now. I sort of get that pool-dog effect, like it's overchlorinated.
What are you doing this summer?
I'm an intern at this place called Shecky's Media. I help write girls'-night-out city guides.
What are you wearing?
A random Calvin Klein bikini. I don't believe in sarongs or those little overskirts, because everyone knows what you're trying to hide under there. It's like when someone's picking their nose in the car. We can all see you.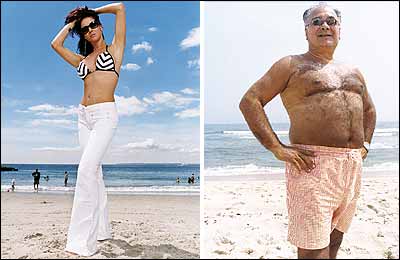 Barbara Lutsky, Property Manager, Coney Island
Are your boobs real?
Nope, they're bought and paid for in 1999. A bunch of my girlfriends who were dancers had gone to this doctor on Fifth Avenue, and so he only charged me $6,000.
Paul Greenfield, Lawyer, Main Beach
Do you believe in back waxing?
If it were up to me, I wouldn't do it. But my girlfriend prefers it, which is good enough for me. I go to cheap Russian ladies. It hurts.
Roger Robertson, Skater and Surfer, Main Beach
What's your best trick?
In the park? Probably dropping in on a six-foot and airing off a three-foot, then going down, axle-stalling on the five-foot, going back and doing a rock and roll on the three-foot again.
Vida Dominguez, Designer, Russell Simmons, Mogul, Glen E. Friedman, Photographer, Main Beach
What are you wearing?
Russell: All Phat Farm. I mean, I make it.
Vida: My bikini line, Rockaway Beach. It's not as hoochie.
Glen: A Minor Threat T-shirt. It's one of my best friend's old groups.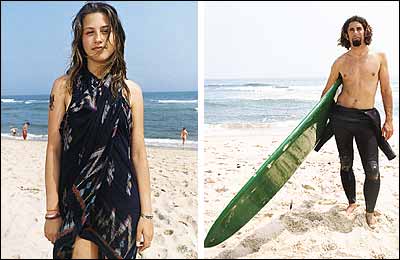 Martine Langatta, High-School Graduate, Main Beach
Do you have a boyfriend?
No, I don't. I'm a free spirit.
Are you hoping for a fling?
Yeah. That's what's summer's all about. Fun and just randomness.
Bubba Charron, Carpenter, Main Beach
What's the best place to surf in the Hamptons?
I'm not allowed to answer that. If I give you a spot in town, I'm gonna get killed by my friends. If I give you a spot out of town, I'm gonna get killed by those guys.
Orlan, Multimedia Artist, Main Beach
What do you think of all the fake breasts out here?
As an artist, I use plastic surgery to create something different, but everybody is free to deal with existential problems in their own way. It's about inventing yourself.
Mark Shvarts, Computer Programmer, Coney Island
Your mustache is very seventies.
When I was 16 in Moldova, the Beatles were exceptionally popular, and most of the pictures of the Beatles I saw, they were wearing these mustaches.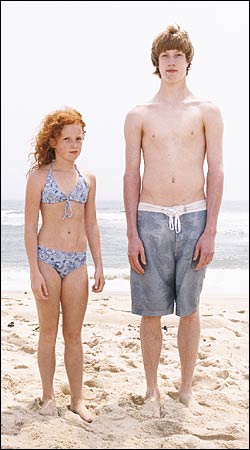 Cassie Wilka, Junior-High Student, and Derek Slykhuis, High-School Student, Main Beach
Where are you from?
Derek: South Dakota. A little town called Scotland.
Cassie: Sioux Falls, South Dakota. He's my stepbrother.

What are you doing in the Hamptons?
Cassie: Visiting my aunt. She used to work for Starbucks. She bought the coffee. Derek: This was my first time. It was hot. I liked it.
Do you have a summer job?
Derek: I work at Wendy's, and for my neighbor. He's a farmer. We load corn mostly. Put it in a truck and take it to an ethanol plant.
Cassie:I go to YMCA camp for two weeks. You go out in the wilderness and rock-climb and go boating and stuff.
Where'd you get your swimsuit?
Derek: JCPenney. I don't want to spend my money on clothes.
Cassie: At Limited Too. I like clothes.
Do you ever pick on each other?
Cassie: Only when I get really mad at him. I make fun of him because he has a girlfriend. I just kind of say, "Derek has a girlfriend!" I've never met her.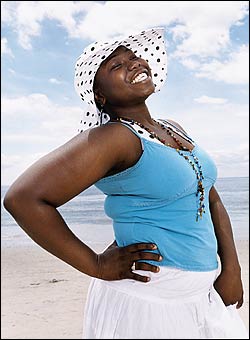 Nisaa Askia, Barista, Coney Island
Where did you get the hat?
Brighton Beach. I got the skirt there also. I'm shouting Brighton Beach out!
What do you do at the beach?
As soon as we got here, my boyfriend ran in the water. He was Mr. Athletic. I'll sit and watch. I'm not trying to sweat out here. Then we dug this hole and built a fort to block the water from coming in. It turned into this huge project. We had shifts of people digging sand. I was like, Why are we doing this? We were really working hard.
What's your biggest beach peeve?
The run-by, when they go kicking the sand up. Come on!
Have you ever been to the Hamptons?
No. I think it's way too uptight for me. It seems like it's The Hamptons: The Thing to Do.
What do you do?
I moved to New York to be a designer. I've been doing it since high school. I used to charge people $10 to do things to their jeans. I'm applying to FIT this fall.
You should audition for "Project Runway."
I'm all about it. They'd love me. I'd be the one that blows up every episode with drama—keep them coming back every week.
With Denise Penny and Jada Yuan.