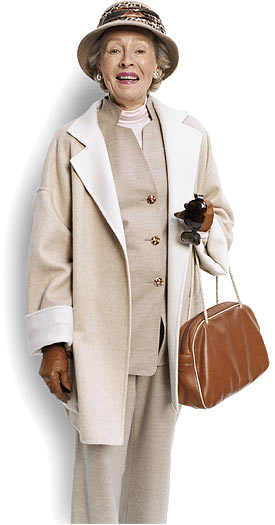 What are you doing today?
Well, I just finished giving a speech at the Pierre Hotel about abortion rights. I used to be the chairman of NARAL. And now I'm heading home—I live at the River House. We're having Andrew Cuomo for cocktails tonight. No, not Andrew, Mario. The former governor.
Were you at NARAL a long time?
A while. I'm 82 now. I was ambassador to Norway at one point, and I worked for the New York Stock Exchange. I still sit on the board of the U.S.-Japan Foundation, which I co-founded, and a couple other organizations as well. And I'm very politically active for the Democrats.
What do you think of Samuel Alito?
He seems to be a chap with a good deal of experience. Looks very well qualified. Too conservative, but I would imagine he'll get through. I felt sorry for the other one, that poor lady. They really went after her like attack dogs.
Did you like Norway?
I loved it. I like the Scandinavians—they're good people. And I do like to ski. My husband, Angier Biddle Duke, was also an ambassador—to Morocco, Denmark, Spain . . .
How would you describe your style?
Very classic. Obviously. Now, let's get on with it.
Were there certain wardrobe pressures as an ambassador?
I've never been self-conscious about my style. I dress the way I dress, and if it doesn't suit the job, that's too bad. I dress conservatively, I suppose, but I'm 82! My favorite designer was Geoffrey Beene, who is, I'm sad to say, gone. You know, I was a fashion editor once! On the New York Journal-American, which is also long gone. I'm like the cat that keeps coming back.
Is this outfit Geoffrey Beene?
It's always Geoffrey Beene. He was a great cutter, sort of like Balenciaga.
What was your favorite career?
Working for the Journal-American when La Guardia was mayor. What a delight he was! Bloomberg has some of the same personality, you know. But I really loved La Guardia. I was one of the lone women wandering around, and I guess if you're a young, pretty blonde girl, that helps, but he was so nice to me.