From left, Chanel, Balenciaga, Dolce & Gabbana, Christian Dior, Stella McCartney
(1) You'll Revisit the Sixties. Again.
It's black-and-white, it's short, it's mod. It's Edie at the Factory rather than Janis at Woodstock. But everywhere from Dolce to Dior, the sixties were just in the water.
From left, Balenciaga, Viktor & Rolf, Undercover, Jean Paul Gaultier, Burberry Prorsum
(2) You'll Get Military.
It's not a camouflage trend, it's more of an epaulet thing. Think Navy rather than Army, like the subtly cool peacoats from Viktor & Rolf, or take it more literally with Balenciaga's major-general look.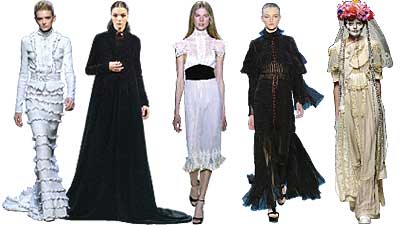 From left, Rochas, Riccardo Tisci, Chloe, YSL Rive Gauche, Comme Des Garcons
(3) You'll Channel Jane Eyre … on a Sunday.
There were hints of Victoriana in New York—lengths of velvet and high Empire waists—but in Europe, the trend was particularly chaste and, in the case of Yves Saint Laurent and Tisci, nearly religious. The showstoppers, however, were the adorned brides at Comme des Garçons. Prude, certainly, but ethereally prude.
From left, Giorgio Armani, Prada, Lanvin, Versace, Louis Vuitton
(4) You'll Add to Your Little-Black-Dress Stash.
You always need one, and some seasons they're nowhere to be found. This time, they're everywhere. Cocktail-length and flirty, Prada, Armani, and Lanvin dresses all were real keepers.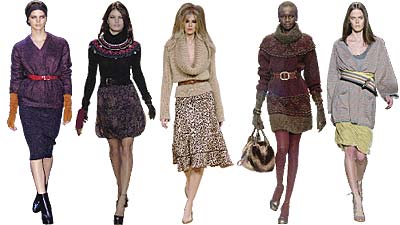 From left, Prada, Blumarine, Alexander McQueen, Fendi, Missoni
(5) You'll Warm Up in a Big, Belted Knit.
Keeping cozy got a sexy look when roomy knits at Prada, Fendi, and knits master Missoni were reined in with wide, tight belts.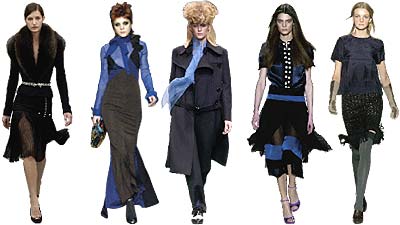 From left, Balenciaga, Jean Paul Gaultier, Yohji Yamamoto, Chloe, Marni
(6) You'll Be Black and Blue.
The old myth that black and navy just don't go together was thoroughly exploded this season. This tremendously chien combination (inspired, perhaps, by les gendarmes?) was everywhere.

From left, Alexander McQueen, Rochas, Louis Vuitton, Lanvin, Balenciaga
(7) You'll Put on a Pump.
The flats you saw during the New York collections are fine for trekking up Madison Avenue, but if you're strolling St.-Honoré, consider a heel. Designers like Alber Elbaz at Lanvin, who's made a strenuous case in seasons past for round, girlish flats, added inches this time; Marc Jacobs kept things low to the ground for his eponymous collection but went far more femme fatale at Louis Vuitton.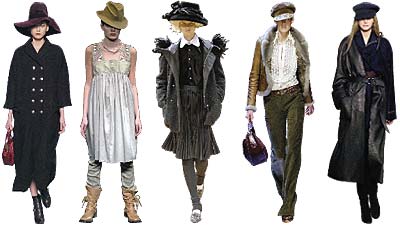 From left, Louis Vuitton, Undercover, Junya Watanabe, Valentino, Hermes
(8) You'll Figure Out Your Hat Size.
And work on your angle. At Louis Vuitton, the toppers were extra-large; at Undercover, they were all fedoras. Valentino and Hermès amped up the newsboy cap that's been so street-trendy in New York. The overall effect? A sexy, mysterious addition to the menswear trend.
From left, Miu Miu, Prada, Louis Vuitton, Etro, Yohji Yamamoto
(9) You'll Wear Some Hardware.
Metallics moved from fabrics to heavy-duty accent—chains, grommets, snaps, and buckles. Vuitton embellished with a belt, while Prada doctored up the hem of a prim lady coat.
From left, Lanvin, Alexander McQueen, Marni, Roberto Cavalli, Max Mara
(10) You'll Get Used to the Fact That Fur Isn't Going Anywhere.
This most controversial of trends has really dug in its heels. Alexander McQueen offered up fur fantasy No. 1—the belted bathrobe that may or may not have anything underneath.