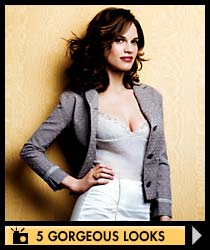 For me," says Hilary Swank, thinking back to a preteen fashion highlight, "ultrafancy was Esprit. If I owned an Esprit sweater, I was lucky." These days, at 28, the Academy Award–winning Swank is pals with designers like Calvin Klein and Marc Jacobs, and the proud owner of a closet overflowing with couture. Sometimes the clothes she gets to wear are so nice she can't even bring herself to actually put them on. "They sit in my closet, and I look at them and I touch them and I feel them," she says, "and I say, 'Oh, this is so pretty!' "
Swank is settled into a table at Craft, one of her favorite restaurants, to talk spring style. Today—which is not exactly springlike—she is dressed in jeans (Paper Denim & Cloth), sneakers (Adidas), a wine-colored turtleneck sweater (Marc Jacobs), and a black overcoat (Calvin Klein). During high school in Bellingham, Washington, where Swank competed as a Junior Olympian swimmer, fashion wasn't exactly her focus. "I didn't really know, or really understand, the depth of the artistic ability in a designer," she says, digging into an arugula salad. "It wasn't something I really appreciated, because I didn't grow up with a lot of money. I remember when I first started making money, I still said, 'I'm not going to spend all that on a sweater or a pair of pants when I can get a nice pair of black pants here at Banana Republic!' " She smiles, and with her makeup-free face, she looks like a college co-ed. "Then I was in a really blessed position where designers would want me to wear their clothes, and from the things that were given to me, I realized the difference in how they made me feel. Not because they were brand-name, but the cut just feels right. There's something to be said for putting on Chanel—there just is."
Two years ago, Swank and her husband of five years, the actor Chad Lowe, moved to New York from Los Angeles. They recently settled into a West Village brownstone where the closets are not big enough to handle her shoe addiction. "I love them all for different reasons at different times," she explains. "Manolo, Pierre Hardy, Sigerson Morrison, Jimmy Choo. Lots of Marc Jacobs, the high pastel wedge ones. I take good care of them; I keep the little inserts in them and all their little bags."
"I love to ride the subway. I just don't do anything weird like wear sunglasses. Who is going to be in the subway with sunglasses on, except for a celebrity!?"
But Swank doesn't always dress like a red-carpet exhibitionist. What she puts on depends entirely on her mood. "It's like my music. I love James Taylor, Eminem, Missy Elliott, Pink, Stevie Wonder, Bach. It's so eclectic. Sometimes I'll wake up and want something cozy on. When I want classy and elegant, I wear Calvin. I have this coat that goes to the floor. You can't see how it zips, but it starts a little higher than mid-thigh and goes up to here," she says, motioning to a high turtleneck. "When you walk, your legs come out, so it's really fun to wear a little skirt with it. You know, be warm, but have some leg show." She smiles. "You don't want to hide everything!"
Since her famous gender-bending turn in Boys Don't Cry (it's hard to imagine that at any point since puberty, Swank could possibly have played a boy), she has come full circle and, like a lot of her fellow indie-bred actresses, recently opted to star in a commercial sci-fi action flick. In The Core, directed by Jon Amiel, which hits theaters next month, Swank plays straitlaced flying ace Major Rebecca "Beck" Childs, who pilots a mission (along with foxy Aaron Eckhart) to the core of the Earth, which has mysteriously stopped spinning. Most of Swank's scenes call for Army fatigues, but she still manages to eke out a fashion statement. "There was a pair of pants that were really reminiscent of Tom Ford or Yohji Yamamoto a couple of years ago. They kind of hang over your boot and have that zipper all the way up the front. I kept those," she says.
For Swank, clothes are an integral part of figuring out her characters. She spends lots of time talking with the costume designer before a shoot about what she sees them wearing. "The way you open my closet and you see shoes, well, that's me—I like to figure out if you opened your character's closet, what do you see? I think Beck would be more of a jeans girl," she says. "Pressed jeans, though."
Swank just spent three months in period costume for Iron Jawed Angels, an HBO movie about the women's-suffrage movement. She plays Alice Paul, one of the driving forces for getting women the right to vote. "The designer had me wearing long, really flowy pants that looked like a skirt from the front. We didn't have to wear corsets. Thank God! If you meet an actor who says they like them, they're lying." For her next project, however, Swank will have to get used to lacing up again. This week, she begins rehearsals for a revival of The Miracle Worker, a play about Helen Keller, directed by Marianne Elliott. Swank will play Keller's teacher, Annie Sullivan, the same role that earned Anne Bancroft a Tony in 1958 and then an Oscar for the film version. "Back in July, I was told there was this opportunity, and I said yes right away. The Miracle Worker, The Elephant Man, and E.T. were the first movies I saw," says Swank. She empties a brown bag of library books onto the table: three encyclopedia-size volumes on Helen Keller. "My weekend reading," she says.
For years, Swank had been looking for a play to do, not an easy prospect when living in Los Angeles but one of the true benefits of being a New York actor. Another benefit, according to Swank, is living a life that is not focused on her own fame. "You know how sometimes you feel like you're watching a celebrity when you go to the movies? You can see it—it's like the actor can't get out of their celebrity. If an artist can't get into the thick of it all, what do you draw from? With Meryl Streep, you never think you're watching a celebrity. Daniel Day-Lewis —he went and became a cobbler for a year," she says, her eyes widening at the idea of spending that much time surrounded by shoes. "Now, that's someone who's really in the middle of life!"
Hilary Swank's New York
Personal Styling:
I really like shopping on Elizabeth Street. I love Barneys. I'm not a big fan of big places—I don't like shopping in malls. I love the Marc Jacobs store on Mercer Street. The people there, Stacey and Robert, they're like my dear friends now. I go in, we have pizza—one of my favorite foods—look at the clothes, and I shop.
Self-Improvement:
I really love Equinox; getting a massage there is amazing. I didn't work out for two years, I burnt out on it. Now I just try to listen to my body. I started doing Pilates. I really like spinning. I used to go to the one on 19th Street when I lived near there; now I go to all of them. If I'm at a rehearsal space uptown, I'll go to one near there, wherever I am.
New York Landmarks:
I enjoy going to the Met and the Planetarium. And the New York Public Library is to me one of the most beautiful buildings besides the Chrysler Building. One of the things I love about New York is I feel it has its own personality—the city feels like a person, like an entity. It's the best city in the world.
Getting Around:
I like to ride the subway. I do a pretty good job of being incognito. I just don't do anything weird like wear sunglasses. That's a big celebrity thing, and it makes you stand out tenfold. Who is going to be in the subway with sunglasses on, except for a celebrity!? A hat usually works pretty well. I just wear my jeans, my tennies, my North Face jacket. New Yorkers are cool about it. They look at you, but they don't make a big deal.
For the Home:
The 26th Street flea market—I love going there for vintage fabrics. I could never find beds for my two dogs—Tanner and Lucky—that weren't plaid, so I bought fabric there and made my own dog beds. I love Calvin Klein for home stuff—he has great sheets, and I really like his plates and stemware. I got my couch and chairs from Housing Works on 17th Street, dark-green velvet with wood trim. Also, ABC Carpet & Home has great things. I like to get a better deal usually, but … when you need something, they'll have it.
Eating Out:
I'm really picky. One of my favorites is Cafe Colonial on Houston Street. Love it. I usually get what's called the Brazilian beans; it's rice and beans. And the kale! They make the best kale ever. I love Indian food—Surya is where I do a lot of my interviews. If I'm feeling like a breakfast or lunch thing, I go to Bubby's for vegetarian chili, huevos rancheros. I like to see a play and have dinner afterwards at Joe Allen. They have really good corn on the cob. I love dessert, and I love Magnolia Bakery. They need to use less sugar in their icing, though. It gives me a headache.