Sometimes when you're sitting through what feels like your twenty-ninth fashion show of the day, you start to consider what drives designers to dream up the clothes they do. This was the case at the recent run of spring 2003 collections, where the runways were crowded with miniskirts. I hesitate to say that the mini's return is triumphant, if the muted response from press and buyers is anything to go by. More than a few people could be heard coming out of the shows saying hopefully, "Those skirts will be much longer by the time they reach the stores." But there is the old theory that as hemlines go, so goes the economy: if they're up, the market is, too. Might this new run of thigh-skimming skirts be a little bit of wishful thinking?
Certainly, at first glance, short is not the most obvious way to stimulate retail excitement. And fashion, after all, needs to target more than just those women who hanker to dress like Britney Spears. (As if ordaining the trend, Britney made her first appearance in the front row at the New York shows.)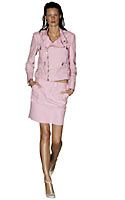 Still, short was the strongest signal of a fashion turnaround, as the two reigning themes of recent seasons – vintage and folk – were decidedly left behind. What's emerging is a way of dressing that is, at its best, spare and sporty without sacrificing romance or sensuality. The designers who did minis well – Miuccia Prada, Stella McCartney, Karl Lagerfeld at Chanel, Tom Ford at Gucci, and Nicolas Ghesquière at Balenciaga – gave them an injection of energy and modernity. Ghesquière and Lagerfeld played up the mini's athletic edge (hitting, in particular, spring's recurrent surf theme with lots of neoprene, bonded seams, and chunky plastic zippers); McCartney and Ford saw it as the perfect way to dress for evening; and Prada detonated its sex-bomb connotations by making it look casually luxurious with flat, silver thong sandals.
Another designer who offered a great, confident new vision of the mini was Alexander McQueen. His models – styled to look like damsels shipwrecked on a desert island – had his soft brocade miniskirt suits, cropped voluminous pants, faded gold-sequin tops, and flared, dramatically colored dresses to keep them company. His Paris show confirmed him as a major-league talent; one major-department-store buyer told me that he planned to substantially increase his spending on McQueen's collection, so impressed was he by its commercial and creative force.
And that's the other thing that preoccupies you at the shows: Which pieces will New Yorkers be hot to buy? Plenty of sparks flew in Manhattan, with superlative collections from Calvin Klein and Narciso Rodriguez. The former gave us zippered jackets, straight skirts, and satin bias-cut dresses in a brilliant color palette of oyster, taupe, and aquamarine; the latter's show was a masterly exercise in cutting and constructing dresses. Both designers featured plenty of this season's best looks (which we've charted over the following pages), clothes that really will change how you want to dress. Instead of making safe, classic items – which is what we've all been buying for the past few seasons – this time around designers are saying "Take a risk. Be confident." And, in the case of the mini, at least: "Think small."
Next: The Miniskirt Designs
Who would have thought that one of the most radical looks from the spring 2003 men's collections would be a sharply tailored suit worn with a shirt and tie? Once again, designers are moving toward a much more formal approach to getting dressed. Go for a touch of the forties with double-breasted suits, wide pants, and sweaters worn with knotted scarves – fedora optional. The flip side of this sartorial coin is the rise of a utility-meets-sports look: Lightweight parkas, hooded jackets, and cargo pants are winners in this field. And just to prove that the influence of rock music goes way beyond MTV, designers remixed the style of bands du jour the Hives, the Vines, and, of course, the Strokes. Relive your CBGB youth with black leather jackets, skinny shirts, and faded, distressed denim.
Next: The Men's Looks