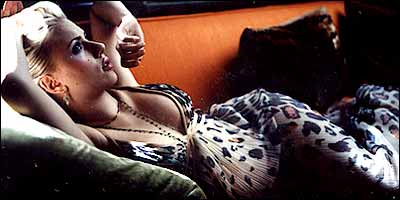 Lounge Actress: "I love everything about John, she says about Travolta, her next older-man co-star. " I think John and I could make a romantic movie together."

Dress, $4,095 at Missoni. Gold necklace with emeralds, $2,500 gold necklace with pink sapphires, $1,640, earrings, $485, at TenThousandThings. Lancome Le Lipstick LipColouring Stick in Mars, $20 at Saks.
When Scarlett Johansson arrives at Musso & Frank's Grill on Hollywood Boulevard, she's looking a little flustered. "I'm so sorry I'm late," she cries, in an improbably husky voice, "but I've just had my hair colored." She whisks off her baseball cap to reveal a shock of blinkingly bright blonde hair. "I wanted gray," she mutters. "But it's too much work to maintain."
We sink into our red booth, and an elderly Mexican waiter is quickly hovering with his order pad, but Johansson is still distracted. She's turning her head from side to side, in need of a reaction. "What do you think? It's not long enough, is it? I want it really, really long. You should have seen the haircut I had before—a seveeeere mullet." She rummages through her bag and produces a photo of herself ripped out of a magazine. Severe is the only word for it. "It used to be really short at the front, like Ziggy Stardust," she says, examining the picture wistfully. "I was rocking it for a while. But this is taking so long to grow out." She puts her cap back on and turns to the waiter. "Tea? Regular tea?"
As he leaves, he double-takes and grins—he knows that girl from somewhere. Which is one way of measuring Johansson's current state of celebrity. She's not yet Cameron or Julia; indeed, you might still miss her altogether on the street. But then she's less of a star than a real actress. At 19 years old, she's already a genuine master of her craft who earned not one but two Best Actress nominations at the Golden Globes—as a cool, if confused, young wife in Lost in Translation and an equally convincing seventeenth-century servant in Girl With a Pearl Earring. Today, newly blonded, she looks like a young Rosanna Arquette in her beige Tod's boots, a cashmere hoodie, and tight blue jeans.
And to think she was supposed to be studying film in icy Purchase this year rather than having lunch in Los Angeles. She won't be going back now. "I don't miss school," she says with a shrug. "It's for some people and not for others." It seems like the right decision, as 2004 is shaping up to be as busy as 2003, with the SAT-heist comedy The Perfect Score currently in theaters and A Love Song for Bobby Long out this fall, in which Johansson's character returns from her estranged mother's funeral in New Orleans only to find a drunken, lecherous John Travolta living in her Florida trailer home. Next month, she's shooting Synergy, by the Weitz brothers, in which she plays the tennis-pro daughter of a sports-magazine editor (Dennis Quaid) who ends up dating his 25-year-old boss (Topher Grace). And she also wants "to direct something, really soon. I'm just so busy right now. I want to write something, too."
In actress years, Johansson is actually a veteran, having started her career at 8 in a stage play alongside Ethan Hawke. She now has eighteen movies under her belt, and Robert Redford, who gave Johansson her breakout role in The Horse Whisperer, has said that she was "13 going on 30." Sofia Coppola, who directed Lost in Translation, said, "There's something deep about her. She makes you feel like she has been around the world."
In actress years, Johansson's a veteran. Robert Redford once said she was "13 going on 30."
Part of her old-soulness is her uncanny chemistry with older men, at least onscreen (in life, she is single and dating, having already had—why does this not surprise us?—two long-term relationships). She has acted opposite Sean Connery (Just Cause) and Billy Bob Thornton (The Man Who Wasn't There). In Lost in Translation, she and Bill Murray have a very adult quasi-affair, even when they're running around Tokyo like jet-lagged kids in a video arcade. Their relationship hinges on a mutual understanding about the difficulties of relationships, and it's hard to imagine another young actress who could live up to her part of it. In Girl With a Pearl Earring, she plays muse to Colin Firth's Vermeer—a role in which she scarcely speaks at all. "It was emotionally draining, but not difficult," she says. "It's much easier to let the emotions play across your face than to have to fumble around with silly dialogue."
Johansson's had a lot of practice making faces. "I was one of those kids who used to stare in the mirror until I made myself cry," she says about her early desire to be an actress. "I wanted to be Judy Garland in Meet Me in St. Louis." But initially it was her brother who was signed up by a talent agent who turned her down. "I was completely devastated. I saw my future crumble at the age of 7," she says. But she was determined, so she enrolled at Lee Strasberg, and her mother began taking her to auditions.
"It's weird, but I remember going onto the set of my first film"—Rob Reiner's North in 1994—"and for some reason, I just knew what to do, instinctively. It was like, I don't know … fate." She starts dabbing at her eyes. "I get very emotional at this point," she confesses. "I just love everything about making movies."
She has a slightly more complicated relationship with Hollywood. Despite having just bought her first apartment, on Hollywood Boulevard, "I still tell people I live in New York. I can never leave it." The first thing she likes to do upon returning to her native city is shop. "There are a lot of good shops on the Lower East Side, but my favorite is Barneys because it's filled with old ladies and nobody bothers you. In L.A., it's a big scene—you find Lara Flynn Boyle trying on bikinis." Just the thought of trying something on makes Johansson shudder. "First of all, the overhead lighting in the dressing rooms. I swear I need a plastic surgeon on speed-dial every time I go into Neiman Marcus."
Remarkably, she also claims that she's out of shape. "I'm rotting on the inside. I have no muscles, no endurance. All my outdoor activities involve lying in the sun." Has she considered the gym? "No, exercising's too dull. Actually I've got a tennis lesson on Friday. In Synergy, my character has to look like I could be a professional tennis player. I'm a bit nervous. I've never played before."
But for now, Johansson has other things on her mind than her backhand. She's wondering how to score a ticket to the Marc Jacobs show (that shouldn't be so hard). And whether she could parlay her film career into an ad campaign for her favorite fashion house, the way Jennifer Lopez did with Louis Vuitton. "There are some labels that I'm just …" She paws her hands in the air. "I want, I want. I want a Chanel suit so badly. Gucci makes me drool, too."
Surely she could just have someone call Chanel—isn't that how it works with celebrities? "I wish. I got an iPod the other day for doing a photo shoot, but people are really stingy with their clothes, you'd be surprised. I always read things in magazines that say: 'Stars get these $15,000 Chanel suits!' " She laughs. "And I always go, 'Wow! In that case, I want to be a star!' "
Photographed by Norman Jean Roy.