Mona Kowalska
A DétacherIn a world in which grown women are dressing more like teenagers at a slumber party, the clothes at A Détacher can seem a bit out of sync. They are sharply edged and architectural, proudly adult and sexy, and far from obvious. At A Détacher, chunky knit sweaters get thin leather belts like harnesses, jackets balloon at the waist, and little clusters of gathers are found in unusual spots, like armpits or hips.
They are the work of Mona Kowalska, a 41-year-old strawberry blonde with an extra-lean frame and some of the best personal style in the city. "I like structured clothing," Kowalska says. She is drinking mint tea in a coffee shop around the corner from her store, wearing a shrunken turtleneck sweater and a tiny magenta print blazer of her own design. Over it all is a khaki Marc Jacobs trench, wrapped tight and belted. "I like formal clothing," she says. "I like clothing that you put on and feel dressed."
Kowalska spent the early part of her career designing for various small labels in Italy and, briefly, running the Paris design studio of Sonia Rykiel. But with such a precise and unwavering sense of design, she eventually decided that she'd like to do her own label, and that New York—where people really love to shop, and where they savor the process of discovery and the thrill of the unique—was where she belonged. She opened on Mott Street in 1998.
Kowalska has a few wholesale clients (mostly in Japan), and once in a while Barneys New York will take a look, but she does best with the clients who shop directly from her racks. The collection makes more sense, she says, if you see it as a whole. A quilted, collarless wrap coat without a single built-in closure, for example, might look bizarre outside its milieu, but in the store it was a best-seller. "It's just never going to be mass,"she says. "It's easy to get caught up with ambition and plans. But sometimes I just say, 'What about a small, well-run company? Is that such a terrible thing?' "
Kazuko
Kazuko, the mono-named Japanese-born jewelry designer, came to New York on a Fulbright scholarship in 1968. Her mission was to study experimental theater and she likes to say she knew what a good actress she was when she realized she could effectively portray sadness, an emotion with which she's not terribly familiar.
Acting was her first love, but Kazuko always liked to make things, too. She was a photographer for a while, and then she made scarves: elaborate and beaded, with bits of antique kimonos and rare shells sewn to the patterns. It was an elaborate chiffon veil that brought Kazuko her first major attention; she made it for another one-namer, Madonna, to wear in the "Like a Virgin" video. A lot of designers might have ridden that breakout moment to big-time success, but that's not Kazuko's way. She took her next cue from a 1986 encounter at a happening with the artist Robert Frank. "He said 'Kazuko, do something simple,' " she says. A few weeks later, a tarot-card reader told her about the power of crystals. "I was on the subway with my tourmaline," she says, "and I just felt better."
Before long, Kazuko was wrapping generous lengths of thick gold wire around rose quartz and amethyst, tourmaline and pyrite. It's a look (and a vibe, one can only presume) that's attracted a supercool fan base—Calvin Tomkins and Susan Sarandon are regular clients, as was Susan Sontag.
Kazuko holds court at Barneys, dressed, usually, in all white. She's the unofficial soul of the Barneys staff, each of whom has a piece of Kazuko calibrated to his or her karmic needs. After 9/11, every single Barneys employee got a little piece of pyrite. "After that, they changed," she says.
Despite all her success, her glittering following, her remarkably healthy sales, Kazuko doesn't budge. "Everyone tries to seduce me," she says, giggling. "[Former Bergdorf Goodman head] Dawn Mello would write me notes: 'Oh, Kazuko, your jewelry is the only thing I have to buy outside my store.' " But she shrugs it off. Barneys is her home. "If I am a brand, it is because my name is attached," she says of her pieces. "It's really the person who is wearing it that brings the meaning."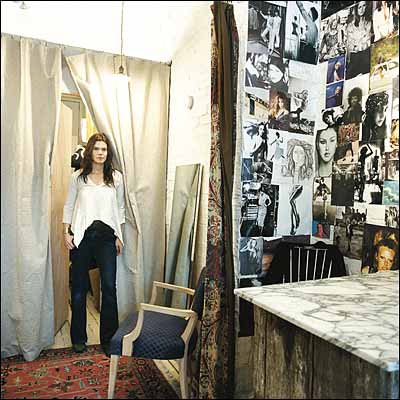 Anne Johnston Albert
Martin East VillageRight now, DENIM is a mad world of whiskers and rinses, rises and rivets. But Anne Johnston Albert, owner of Martin East Village, has managed, for the past five years, to make the one perfectly cool yet still basic jean that every big corporation wishes it could nail. They can't. Albert sells them from her tiny storefront on East Sixth Street, right across from that often-crowded swath of the East Village known as Little Ukraine, and occasionally in other small boutiques in the neighborhood that find themselves lacking in the pants department. The jeans come in a few different colors—dark denim, black denim, and a lighter summer version—and a few basic variations of cut. They come in two different rises (one to hit your waist, another your hip), with Lycra or without, and they are a classic boot cut. If you see a pair of Martin jeans that look worn in, it's because they are, not because they were bought that way. They are what Levi's would look like if Levi's actually looked good on girls—and a little secret about Martin jeans is that boys like to wear them, too.
She also makes T-shirts that are cleverly and elegantly cut, sometimes like a toga, and double-breasted bandleader jackets out of soft moleskin. If you are ever invited to hear your friend's band play at Southpaw and you want to look right, Martin is where you'd shop. Albert even has a celebrity following who occasionally swears by Martin in magazines. So why hasn't Martin exploded? "I want a healthy business," says Albert, a former model with flawless pale skin, "but I find it really hard to get into the head of somebody in the Midwest. Even L.A.! I can't seem to think of a store there that gets it."
Not to mention that Albert has spent the past few years focused more on her kids than on empire-building. But for spring, she's signed on with the News, a popular Soho showroom, to gauge the interest of the outside world. Odds are, she'll remain true to what she does and people will either get it or they won't. "I'm not a fan of thereally noticeable," she says.