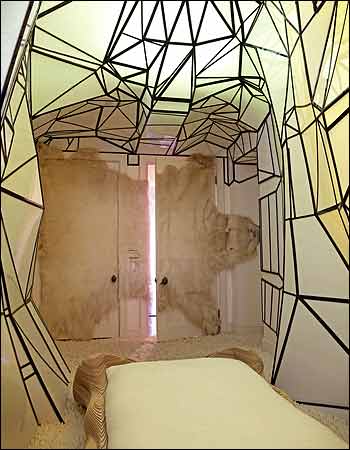 "Whenever I find life overwhelming, I go to this room, and it offers passage to another state of consciousness—better than taking drugs and easier than travel," says Andrew Solomon, author of the National Book Award–winning The Noonday Demon: An Atlas of Depression. "I always think of Coleridge's 'Kubla Khan': 'It was a miracle of rare device, / A sunny pleasure-dome with caves of ice!' " The room is both a site for contemplation and a place for guests to spend the night—it's on the top floor of the five-story Greenwich Village house that Solomon shares with his partner, editor John Habich.
Room Size
14 feet long, 11 feet high, and 8 feet wide
The Inspiration
The igloolike installation came into being six years ago, when Solomon was at an opening for the artist Stephen Hendee, who'd created a piece in foam board and black gaffer's tape that people could actually walk into. Solomon blurted out to a friend that he would love to have just such a room; when Hendee overheard this, he asked Solomon if he was serious.
The Process
Hendee first built a full-size foam version of the installation, then replaced those pieces with Plexiglas panels (stephenhendee.com).
The Bed
Only a twin would fit in the space. Custom-made—and weighing over 220 pounds—it's by Danish designer Mathias Bengtsson, who layered 1,500 pieces of plywood to make the frame. It was built in his studio in London and shipped over in two pieces. "Andrew is a very specific client," says Bengtsson. "The bed had to be low and compressed and have movement"—so that its frame resembles waves of wood (bengtssondesign.com).
The Carpet
An oversize wool pile.
The Lighting
Behind some of the panels, Hendee used fluorescent tubes that he covered in theatrical gels. There is no dimmer switch, but the light is always quite diffuse.
The Wall Rug
The polar bear was a gift from a friend of Solomon's.
The Window
The linen curtains were designed by Todd Gribben when he worked for Robert Couturier, who decorated the house about ten years ago (Couturier: 212-463-7177; Gribben is now with Bunny Williams: 212-207-4040). The room has a view of the Empire State Building.
The Sheets
Solomon prefers the plainest of plain white cotton to keep the focus on the bed itself.