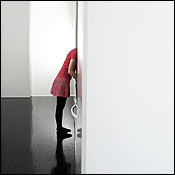 If Renée Patronik's two-month-old kitchen looks a little … clinical, that's because she picked her architects after visiting a SkinCareLab they'd designed in Soho. "There weren't any windows there, but they created a big open space that didn't make you feel deprived of sunlight," she says. Since the kitchen serves primarily as a beverage center (coffee, Volvic, Boylan ginger ale, and Chardonnay), Patronik wanted to minimize its presence—even though, with so many square feet at her disposal, she clearly didn't have to. "We toyed with the idea of not having an oven, but we found that the code says you have to have one." Architect Brian Messana—who doesn't cook when he's in town, either—says the majority of his firm's kitchen designs have been almost as bare. "In New York, most people's idea of cooking is a telephone number."
Favorite feature?
Patronik: I can't tell you how much I love my Miele appliances. The dishwasher is quiet as a mouse, as are my washer and dryer [on the opposite wall; not shown]. I am an insomniac, so now I can do laundry all night.
Design goal?
Messana: To continue a sense of abstraction, so that the kitchen feels like a stainless-steel inset in a white mass.
Why stainless steel?
Messana: It is a very easy surface to maintain, and over the years it develops a patina.
Trickiest part about the kitchen?
Patronik: The maintenance on all the stainless steel! That's intense. I like it to always look perfect, so I am constantly wiping something down so there are no marks. I knew [about this in advance] and I thought, For the visual, I'll deal.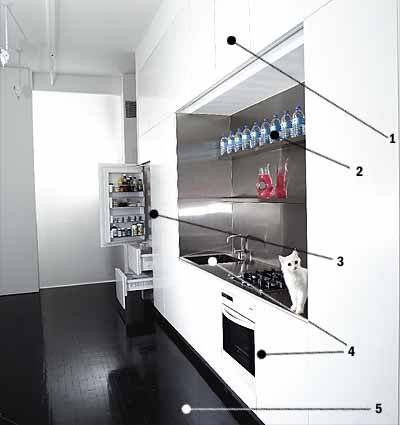 1) The cabinets: They're wood, painted Benjamin Moore Super White, semi-gloss.
2) The shelves: They were the architects' idea, perfect for holding staples and spices should Patronik suddenly decide to cook. In the meantime, she uses them for rotating art installations.
3) The refrigerator: "It's a Sub-Zero 700 series," says Messana, "so you can incorporate whatever paneling you want so it can blend in."
4) The stove and sink: The only elements that give the space away as a kitchen are the double Miele black glass cooktops and oven, and the Eurolegno Volo faucet, designed by Danish architect Arne Jacobsen.
5) The floors: Were white oak, which the architects stained dark chocolate.
Owner: Renée Patronik, hair colorist at Serge Normant.
Architects: Messana O'Rorke.
Space: 2,400-square-foot loft, Alphabet City.