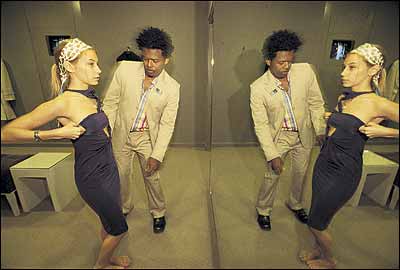 Douglas Wood
Sales Associate, Saks Fifth Avenue
What's your domain?
I pretty much know the whole third floor, but my side of the floor is considered advanced designer collections. We have Gucci, Dolce & Gabbana, Roberto Cavalli, and a lot of Japanese designers like Comme des Garçons and Issey Miyake. I'm in charge of Jean Paul Gaultier. Many salespeople don't listen, so they wind up acting like car salesmen, like, "Put this on" and "Put that on." There's no feeling! I've been in a lot of stores where I haven't been helped properly and I get really mad because I have a lot of money to spend. I give what I expect to be given.
What do you love to sell?
Personally, I love the edgier designers, but I can pretty much sell anything. I love to sell Gaultier. That's my whole energy. I really like Balenciaga. There's so much detail. And I love this new label, Kaufman Franco. They're doing really nice suits with really elaborate sequined linings. It's very nice stuff.
What do you love to wear?
I go as far as possible not to look conservative. I think men's clothes are so limited. Today, I'm wearing brown Hugo Boss boots, black Dolce & Gabbana pants—with Gucci belt, of course—and a crisp, white Dirk Schönberger shirt. Sometimes when I want to be really sharp but conservative, I wear Gucci. This fall, I'm interested in kilts and skirts. I'll wear them with a shirt and tie or a turtleneck or even a nice blazer.
What's your pickup line?
I try to find something I like about their outfit, like the way they put it together. Or their shoes or hair. Then I bring it to the clothing or what the current trend is in fashion. I'll say, "Oh is that Gucci?" Have you seen the new Gucci collection?' I'm good at spotting designers.
Merchandise moved?
It's not unusual for a customer to spend a minimum of $8,000 per transaction. You have to remember that everything on the floor is designer, so it's pricey. I see about fifteen clients a day, maybe ten on a slow day.
How do you close a deal?
She'll be really excited. You can just feel it. Then I say, "Will it be on your Saks account?" And that helps, because if they open a new Saks charge account they'll get an extra 10 percent off. If they're on the fence about an outfit, I'll say, "Do you have a Saks charge?" Who's your clientele? Lots of tourists. One client, an executive president of a company, wears Gaultier to work. She's fabulous. I'll call her, and she'll come running in after work screaming, "I got your message!" She just loves my eye. I have a lot of customers I've helped for years that I've never even seen or met. One woman calls me from California. All I knew was her chest size, that she's kind of curvy, and that she has big hips. I sent her everything, and it all fit perfectly.
Oddest request from a client ever?
I'm always shocked when women are so comfortable with me that they ask for help in the fitting room when they're naked. A lot of times, I'm like, Oh, my God, she's completely naked! But I'm getting used to it. There's one woman who will walk right out of the fitting room completely naked. Everyone at Saks knows her. She's older, but she's had some work done.
Thing you would never tell a client?
I would never tell a woman she's fat! I would try to tell her that maybe she's too big for a certain outfit, but I would phrase it differently, in a way that's not hurtful.
Is it ever okay to lie?
I'm not really a good liar, but I will give them my opinion. I always tell them, "Well, this is how I feel. If you still want to purchase it, that's your choice, but honestly, I think you should go in this direction." I like to give them other options.
Elaine Mack
Head Personal Shopper, Bergdorf Goodman
What's your domain?
I have a private office and a private dressing room on the 4th floor, but I have full reign over the entire store from beauty up to the 7th floor.
What's a typical day like?
I started working at Bergdorf Goodman 30 years ago, when Mr. Goodman only allowed women to work 13 1⁄2 hours per week, something he called the "housewife schedule." Now I work three twelve-hour days a week, starting at 7 a.m. First I check messages from my two assistants or any messages left on my machine overnight. Then I call a group of clients that like to be called between 7 and 7:30 a.m., before they leave for work. At about 7:30 a.m., I start pulling clothes for the day's appointments.
What do you love to sell?
Akris and Etro. I go to Switzerland once a year and work very closely with the designer who does Akris. He even flatters me by calling me his muse. Douglas Hannant is a lot of fun. I do a lot of business with Oscar de la Renta. Each year a designer comes out with something so great that I have to sell it, like Narciso Rodriguez this year. It's a clean, polished look—good for slim bodies.
What do you love to wear?
Akris, Agnona, and Etro. Lots of designers cut differently each year, but I know those designers are consistent.I like to buy a lot of funky things that I wouldn't wear to work, like Gaultier, Dolce & Gabbana, and Sempione. I wear a lot of Chanel. I've probably bought every designer in the store at least once.
Where do you like to shop on your own time?
I only shop at Bergdorf's. This is the world's greatest candy store; why would I go anywhere else? I have a fabulous wardrobe because of it. When I first started working here, my accountant told my husband, "If you break even, consider yourself ahead."
Merchandise moved?
I am the number-one person in the store. I hate to say that because it sounds so overly proud, but I am proud. Let's use yesterday as a prototype: My first client bought a Galliano suit, five sweaters, and a fabulous Missoni sweater coat. Then two very high-powered executive women came in together. One bought a coat, a jacket, two sweat-ers, and two pairs of trousers—all Oscar. Her friend picked up two suits from Akris and a Sempione pantsuit. The next client was the mother of the bride, and she picked up a very beautiful and fairly expensive evening dress from Vicki Teal. My last client bought two dresses, three sweaters, a pair of trousers, a jacket, and a suit—Akris, Narciso, Dolce, all top brands.
How do you close a deal?
I can always find my clients something to buy. I have them try jackets on first, and then I ask "Does this fulfill the need you came to me for?" or "Will this take you to the places you need to go?" I never say "That's you" or anything trite like that. I'll say "I know the things you must buy," and the rest are up for grabs.
Greatest lengths ever gone to for a client?
When I lived in the suburbs, I sold to a lot of people I knew. They would stop at my house on the way to a party so I could tie the bow on their outfit just right.
Oddest request ever from a client?
Someone once requested a cowboy outfit. We ended up finding a boot that could pass and a skirt from Roberto Cavalli. We faked it. But it looked great.
Thing you would never tell a client?
It's all how you say it. If someone comes in with the wrong shoes, I'd say "Have you thought of wearing a shoe with a thinner heel? It might make your legs look long and slim." I would never say "Oh my God, those shoes are so ugly."
Is it ever okay to lie?
Lying about fit and fashion is an absolute no-no.
Fazel Deen
Sales Associate, Women's Shoes, Barneys New York
What's your domain?
The shoe department on the fourth floor is mostly where I am, though it's nice to walk the entire floor with customers. I like to build a wardrobe around the shoe. What do you love to sell?
Ooohh … Christian Louboutin. I love the Blahniks, and there's a reason for that: The way he built the arch really changes your whole foot and leg. It makes you look very sexy. I tend to like more feminine, sexier shoes, like Dolce & Gabbana. Azzedine Alaïa is a little off, which I like. He makes his shoes interesting.
What do you love to wear?
Helmut Lang, Prada, and Jil Sander strictly for style. I'll endure pain for a shoe—and I have.
What kind of discount does your store give you?
What do you buy for yourself? We get 35 percent across the board, and twice a year (in fall and spring) we get 45 percent off for a wardrobe. I've already claimed what I want. Navy and purple are my two favorite colors right now, so I just picked out a Michael Kors navy pant and a Helmut Lang violet shirt.
Where else do you like to shop on your own time?
I like Club Monaco and the Helmut Lang store downtown. I also wear a lot of Gene Meyer—he designs for Marshall Field's.
What's your pickup line?
I always greet clients by looking them in the eye and saying, "Hello, how are you?" Then I might follow them and ask, "Is there something I can help you find?"
Do you work on a commission?
Yes, we receive a base salary and commission, 5.75 percent.
How do you close a deal?
I can joke around with some clients and say silly things to them, but with others, I wouldn't dare. With someone who's in her forties and lives on Fifth or Park Avenue, I might be a little more reserved. I might say something like "I'm sure you'd be very happy with your selection." I'm looser with younger, hipper clients that may live downtown.
Who's your clientele?
A woman might come in wearing a T- shirt and jeans and you'll think, Oh she's not going to buy anything, she has no money, but then she'll purchase the whole store! We have a lot of celebrities come in. Julianne Moore came in and no one really recognized her, but I have a really good eye for that. Her complexion was amazing. She wanted a Costume National shoe but we didn't have it. I'll have corporate lawyers or bankers who dress a certain way for day, but at night they're totally different. Sometimes women come in with a chip on their shoulder. Maybe they're going through a divorce. I'm human, and therefore I don't always rise to the occasion. I try to turn them around, but by that time, it's too late. If you come here in a bad mood, it's just horrible and I can't wait for it to be over!
What are the greatest lengths you've ever gone to for a client?
A client who lives a couple of blocks away from me needed shoes for that evening, so I delivered them to her home after work.
Oddest request from a client ever?
Women expect you to put a shoe on for them. We don't really do that. We just hand them the shoe, but there are a few women who will just stick their toes out, and I'm like, "Okay, put the shoe on."
Thing you would never tell a client?
If another sales associate is helping a client and the client comes to me and says, "Well, what do you think?" I don't like to get involved and possibly ruin the sale for the other associate, who may have worked really hard.
Is it ever okay to lie?
Yes. If the client is not sure or insecure about something, but I know it's going to work and I know it's right, I'll fudge it a little bit. For instance, if it's down to two shoes and I know the other shoe is better, I'll say we don't have the other style or it's not available in her size. By default, she'll go for the other one, but it really is the best shoe.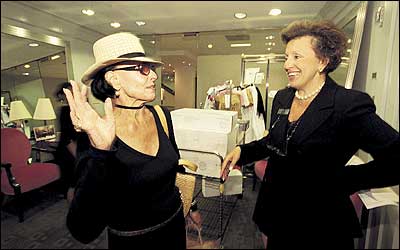 Marian Goodman
Vice-President and Director of Shopping Services, Bloomingdale's
What's your domain?
My office is on the eleventh floor, but it's not unusual for me to be on every floor at some point during the day because we take care not only of personal wardrobes, but gift-giving, too. I arrive at 6:30 each morning and work five twelve-hour days. Our philosophy is to get clients what they need and get it quickly. Someone can call up and say, "I need to send a really great 50th anniversary present right now. What can you recommend?" During holiday time, people call and say, "I need to send ten gifts, and they all need to be $50." We can do it.
What do you love to sell?
I love Chanel, Armani, Ellen Tracy, St. John, Dana Buckman, and Tahari as well as our private-label brand of cashmere, which is just great. And our clients love that we're not one of these stores that goes out and blabs to the newspapers about what we're doing. We protect our clients' interests, and I think that's why they keep coming back to us.
What do you love to wear?
I wear Armani, Ellen Tracy, Escada, Chanel, and St. John. On weekends, you'll find me in a pair of jeans and a Lacoste shirt or a cashmere sweater, always from our private label. And flats. I'm excited to buy brooches. I absolutely have to get new skinny black pants. I buy what fits, like Armani. I definitely want something trimmed in fur and a new Chanel handbag. This season, I'm going to get these great Stuart Weitzman boots.
Where else do you like to shop on your own time?
I do a lot of catalogue shopping. I recently bought some weekend wear from Patagonia. Also, I found a great brooch from a vintage specialty store on the Upper East Side.
How do you close a deal?
When you're working with younger clients, you try to minimize some of the enthusiasm. They don't need as much fanfare as the older clients. Generally, the customers that you've worked with for a long time like attention. I put more time into telling them how great they look. With most clients you say, "That's it!" or "You look fabulous!" But at that point, you both already know it.
Greatest lengths ever gone to for a client?
On Christmas Eve, someone called and said they needed one more gift. We didn't have the specific item in our store, so I went to another store and took it to the post office. I was standing in the post office on Eighth Avenue on Christmas Eve, and let me tell you, it's not a pretty picture. My office knows how to find me 24/7.
Oddest request from a client ever?
One time, somebody was entertaining and needed certain types of serving pieces, much larger than what we carry, so I got the buyer involved and had the samples brought over, and the client chose what she really needed. Another client was on a business trip with her husband, in Florida, and the airline lost her luggage. I put them in touch with our personal shopper in that area, and we instantly outfitted the client with everything from casual clothes to cosmetics to eveningwear.
Anything you would never tell a client?
If they're dead set on buying something and it doesn't look good, I'm not going to stop them from buying it.
Is it ever okay to lie?
The most important thing you can do is build trust with a client, so I would absolutely, positively never lie to a client.