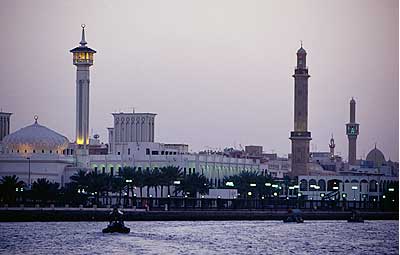 The only place in the world with the hubris to claim a seven-star resort, Dubai is like a modernized Arabian Nights fantasy. New projects in the works include an underwater hotel, a series of mammoth manmade islands, the world's tallest building, and its largest mall, which will house a glass-domed ski resort (yes, in the middle of the desert). But perhaps most unexpected is the Persian Gulf city's warm hospitality—even to Westerners, who are just beginning to flock here for outrageous shopping deals, sultry nightlife, stunning beach and desert sands, and a whiff of some (very safe) Islamic exoticism.
1 Book a seat on Emirates Airlines' new nonstop route from JFK. The thirteen-hour flight (from $1,450) is eased by lavish touches like five-course meals, WiFi, hundreds of music and movie channels, and a full bar.
2 Check in to the just-opened Al Qasr hotel (971-4-314-3555; from $650), decked out with sexy Arabic accents—massive four-posters, sumptuous carpets, flickering lamps.
3 Tour the overpublicized but fabulously over-the- top sail-shaped Burj Al Arab hotel, then have a drink at the Skyview Bar on the 27th floor; it's got a prime view of the Palm Jumeirah, the first of two $1.5 billion man-made island chains fashioned into the shape of a palm tree.
4 Take a day jaunt to Sharjah, the cultural capital of the United Arab Emirates, a half-hour drive away. Numerous museums cover everything from contemporary art to ancient Middle East coins and weaponry; the Sharjah Heritage Area includes a restored ancient souk and a fort once occupied by a sheik.
5 Time your trip to coincide with one of Dubai's increasingly impressive sporting events. February's Dubai Tennis Championships brings out grand slammers like Venus and Jennifer; in March, golf's Dubai Desert Classic draws Tiger & Co., while the Dubai World Cup offers racing's biggest purse—$6 million (see dubaitourism.ae for ticket information).
6 Plan to spend two nights at the Al Maha Desert Resort (971-4-303-4223; from $1,600), a collection of luxurious Bedouin "tents" nestled among sand dunes and wandering herds of Arabian oryx—only fifteen minutes from the Al Qasr. The resort will arrange a camel-and-champagne ride at sunset, or "dune surfing" on modified snowboards.
7 Back in the city, ask the concierge to get you into Al Mahara, the Per Se of Dubai. You'll dine on specialties like thick veal jus and banana tanariva in a dining room framed by enormous aquariums. Feeling less than extravagant? Try Chandelier, an eternally packed Lebanese restaurant with the best mezes in town.
8 After dinner, settle into the cozy banquettes and admire the pretty, hookah-smoking crowd at the One & Only Royal Mirage rooftop lounge. Or explore Dubai's multicultural nightlife at less-sceney downtown hotels such as the Quality Inn Horizon (the very same chain), and Marco Polo, where you'll find Indian bars with (fully clothed) female dancers; Iranian bars with live bands; and El Rancho, a Mexican bar with a Sri Lankan–Indian classic-rock band.
9 For a glimpse of Dubai's fishing-village roots, wander the Jaddaf district and watch local craftsman hand-carving dhows (traditional boats). To get the full effect, take in a dhow race on the harbor.
10 Get your fill of Chanel and Givenchy at Wafi City Mall, then wander the souks: Good bets include the glittering gold souk in the Old Deira district and the aromatic spice souk across Dubai Creek, where alleys lined with barrels of cardamom and cloves are cloaked in a haze of burning frankincense. Sate any lingering shopping urge at the airport's massive duty-free area, where 911 Turbos and XKR Jags are offered next to the usual single malts and chocolates.