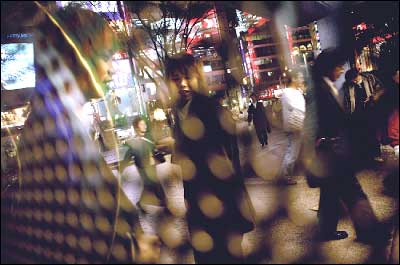 In New York, flashy fashion exhibits and stylishly curated gift shops are making museums seem more like stores. Meanwhile, in Tokyo, the world's hippest architects are making stores seem more like museums. A seven-story Tod's, by Toyo Ito, with exterior walls that look like glass tree branches, is the latest angular masterpiece on Omotesando Avenue. It joins Dior's shimmering white boutique (by SANAA) and the glowing diamond bubbles of Prada (by Herzog & de Meuron) on the Aoyama district's nouveau-luxe retail strip. Nearby in Harajuku, Lanvin en Bleu, the French label's raffish new Japan-only men's casual line, has a copper-colored façade pockmarked with hundreds of tiny holes; a few blocks away, the modernist furniture store hhstyle.com just opened a squat, carbon-black rhomboid extension by Tadao Ando, devoted to Armani Casa and Boffi. And at the new five-floor KDDI building at the end of Harajuku's main drag, Takeshita Street, Guggenheim-esque circular ramps offer prime ogling of gorgeous cell phones, like Marc Newson's ultrathin Talby, which you'll never find in America.
Over in Ginza, Tokyo's traditional shopping district, the top floor of Peter Marino's new ten-story black glass Chanel tower is occupied by the restaurant Beige, a collaboration with Alain Ducasse that's serenely decked out in tweed. The reception has been mixed, but the relatively simple, Japanese-inflected menu is a change of pace for the French wonder-chef. Dinner is tasting-menu only; go at lunch, when it's much more affordable. Ducasse will also be in Aoyama by September, when he opens Benoît, in the new La Porte building, another shopping temple that's already home to Parisian pâtissier Pierre Hermé.
The EN chain of restaurants, which opened in New York late last year, has a new upscale outpost in the Marunouchi business district—lately the scene of much redevelopment. Private booths offer views of the bullet trains departing the city's biggest railway hub, Tokyo Station. EN is one of a number of restaurants in the new Oazo building—go upstairs to the bar Imono-Kura to try shochu, the grain alcohol that's overtaken sake in popularity.
Marunouchi also has a sharp new eponymous budget hotel, but the real changes are at the highest end of Tokyo's hotel scene, where the still-sublime Park Hyatt (the setting for Lost in Translation) is finally about to see some competition, thanks to a recent drop in real-estate prices. This month, Conrad opens a hotel (with two Gordon Ramsay restaurants) that's just a hair less luxurious than the Park Hyatt; the Mandarin Oriental will be in business by the end of the year, with the Peninsula and Ritz-Carlton to follow in early 2007. Also new is the Park Tower Tokyo Prince Hotel, a flagship for Japan's biggest chain—the quirky mix of 2001-style futurism and kitschy interior design feels very Japanese, and the rooms have great views of the Tokyo Tower.
Club Unit in Daikanyama has emerged as the top electronic-music venue in the past year, programming everyone from the British grime guru Wiley to the German techno institution Club Tresor. For Japanese office workers, Xross in Nishi Abazu is the new weekend cruising spot.
Tokyo's answer to the Armory Show, Art Fair Tokyo, debuts in August, offering a chance to check out work from cutting-edge galleries like Taro Nasu and Taka Ishii in one place; in September, the second International Triennale of Contemporary Art, which takes the circus as its theme and promises lots of interactive, site-specific work, settles in at the waterfront in Yokohama.
For trend-seekers, role-playing cafés like @home have emerged in Akihabara, the electronics district, where otaku (pubescent-male video-game addicts) are served tea by ostentatiously subservient teen girls dressed up as French-maid anime characters. More naïvely charming than seedy, it's a merging of fantasy and reality that's typically Tokyo.