Trip #1 of 25     NEXT >>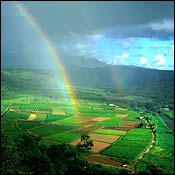 Kauai isn't really that far. Out of Newark through San Francisco, you can be there in a long day, and when you arrive, it will be six hours earlier in Hawaii than in New York, and possibly still daylight, so you will be able to drive north from Lihue and marvel at the vegetation—palms, ferns, and orchids—so lushly different from what you'll find in Central Park. Maybe the best thing about Kauai is that it is fairly small—23 miles by 33 miles. It's easy to explore, and the weather is pretty much always perfect.
My suggestion is that instead of going to a hotel, you take a small rental on the south coast, and ask that it be stocked with a few essentials for the first morning. This way, instead of waking up with the sense that all your money is trickling away toward supporting impersonal grandeur that you might not have occasion to make use of (given the fact that you aren't going to leave your room much anyway), you can cultivate both privacy and anonymity. Not only that, but you won't feel that strange disinclination to leave the compound that sometimes dulls tropical vacations. Because Kauai is a place you want to see, smell, taste, listen to, and feel through your pores.
When you first leave the house, you will drive your rental car up the highway that runs along the east coast, through Lihue (where the airport is) toward Kapaa. Stop immediately at Wailua Beach just south of Kapaa. This is a long, clear, empty beach with a gentle slope. The water is warm and clean, and the waves are slow, even rollers, perfect for the sensuous state you find yourself in after twelve hours in bed. No crashing and bashing, and no surfers. Just rolling around in the ocean and then stretching out on the sand.
Your first real Hawaiian meal will be at a little fruit stand a mile or so north of the beach. Here's where all that fruit that will get to New York in a couple of days starts its journey. I guess you didn't realize that they keep the best, most perfectly ripe pineapples, guavas, starfruits, and coconuts for themselves. Now you know. Try the coffee, too. Later, you may want to try the fresh ahi-tuna sandwich at Caffe Coco in Kapaa, or something luxurious, like the lemongrass seafood stew at the Lemongrass Grill in Kapaa.
Now you are exploring up toward Princeville and Hanalei Bay in the north. The weather here is a bit rainy, and the ambience more mysteriously beautiful than in the south. If you turn off the road, you will find caves and waterfalls and the Limahuli Garden and Preserve, which you might want to explore further. The beaches are smaller and more private, if not quite as peaceful. There are more rocks, fewer perfect long rollers, but by this time it's been six hours since you got out of bed, so maybe privacy is just what you are looking for.
After Princeville, the road ends—the geography of the west coast is so grand that few roads go there. The best thing to do, anyway, is to take a helicopter ride (this would be your second afternoon now). The helicopter will show you how the mountains of the west coast run precipitously down to the crashing surf, cutting off isolated valleys and caves. But that isn't all, since the interior of the island is quite diverse, too. The helicopter will circle one of the rainiest spots on earth, the place where Mount Waialeale stops the trade winds and causes 450 inches of precipitation to fall into the crater every year. It will also fly over strange badlands, called the Waimea Canyon, whose red-and-black desiccated cliffs tower in amazing contrast to the rest of this intensely green and blossoming island.
As for the rest, after two days, you don't need any more advice. Kauai is small and accessible, and so I will leave you alone now to enjoy yourselves.
DETAILS:
Kauai Vacation Rentals (800-367-5025; kauaivacationrentals.com) offers oceanfront condos for $800 to $1,000 per week. Apartments across the street from the beach rent for less, usually $575 to $750 per week. The Hyatt, Sheraton, and other large hotels have properties on the island's south shore (various, from $325). Heli USA Airways offers flights over Mount Waialeale and Waimea Canyon (45-minute flights are $160, leaving from Princeville Airport; 808-826-6591; heliusa.com). Caffe Coco (808-822-7990), Lemongrass Grill and Seafood & Sushi Bar (808-822-2288). Limahuli Garden and Preserve (808-332-7324).