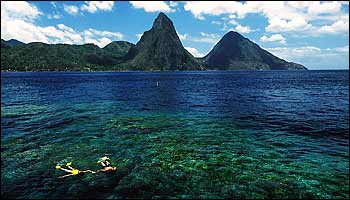 When I traveled to the island of St. Lucia, I had the good fortune to come directly from St. Barts, which is not so different from traveling to the wide-open coastal spaces of Big Sur from, say, the frenetic, confined streets of East Hampton. On St. Barts, I'd stayed in a cramped, overpriced hotel, surrounded by crowds of self-satisfied vacationers from Paris and, as it happened, East Hampton. On St. Lucia, there were few self-satisfied vacationers to be seen. For about half the price of my St. Barts hotel, I rented a villa above the old planters' town of Soufrière, on the southwestern side of the island, near the famous mountain peaks, called the Pitons. The villa had been in the same French family for decades. It had a wraparound wooden porch and antique four-poster beds, and it came with a luxurious tropical garden, and even a gardener named George Pamphile, who cut off the tops of fresh coconuts for us to drink for breakfast, and walked, on Sundays, down to one of the old churches in town, dressed in his proper bowler hat.
In the predictable merry-go-round world of Caribbean vacations, St. Lucia is something of an anomaly. The island, which sits in the middle of the Windward chain, is more varied than small beachcomber destinations like St. Barts or Nevis, but less traveled than similar islands its size. Bananas are one of the island's largest exports. There are mountainous rain forests on St. Lucia, isolated beaches, and ancient villages still populated by the ancestors of runaway slaves. This variety is a function of the island's topography, which grows increasingly mountainous and wild as you travel from north to south. "Because of the mountains, wherever you are the land appears to be unspoiled," says Colin Tennant, the eccentric British peer who's wintered on St. Lucia for nearly two decades. Tennant, whose titled name is Lord Glenconner, pioneered the Euro jet-set island of Mustique before buying an abandoned strip of plantation land between St. Lucia's two Pitons. "I looked all over the world for somewhere to go," he says. "I thought I might find a place to grow some fruit. I bought the land the first day I saw it. In those days, you had to travel to it by canoe."
These days, a rented four-wheel-drive Jeep will do. We rented ours in the island's capital, Castries, then drove south, down the twisting, occasionally perilous western road, toward Soufrière, which sits between the two Pitons. Our little villa was called St. Remy, and to get to it you drove down a secluded garden path, which opened onto a long, backdoor view of the largest of the two Pitons (Le Gros Piton). According to Lord Glenconner, Princess Margaret had stayed at St. Remy once. She had been favorably impressed with the gardens, and when I asked George Pamphile about this, he gave a polite little bow. There were no discotheques near St. Remy, so that first evening we sat on the porch, watching rain showers play over the hills and listening to Anglican hymns being broadcast over the island's radio station. After that, we went to sleep under faded, white mosquito nets, and woke the way I never did on St. Barts, or anywhere else, for that matter, to the surreal sound of a redthroated hummingbird tip-tapping on our windowpane.
During our time on St. Lucia, my wife and I experienced other little tropical wonders. We went snorkeling under the Pitons, off a long wooden boat painted a bright aqua-green, the color of the Caribbean. We took the waters at the Diamond Botanical Gardens, where the mineral baths have been in more or less constant operation since French troops built them in 1784. We clambered up the larger of the two Pitons (the smaller one requires ropes and pickaxes) to admire the long ocean views, then drove up into the hills, where you can hike along rain-forest trails covered with hibiscus blossoms and giant magnolia trees. We dined on local delicacies like curried goat and fresh steamed fish, and leftover colonial treats like lemon crème biscuits for desert. We drank strange rum drinks with other red-faced tourists at Colin Tennant's seaside bar. And when it was time to go home, we did another thing I had never done on St. Barts or any of the other countless Caribbean islands I have visited. We tidied the living room and made our beds just as we had found them. Then we said good-bye to George Pamphile and his beautiful garden, and carefully locked the door of the little villa as if it were our own.
Details
St. Lucia is located in the southern Caribbean's Windward Islands. American Airlines offers direct flights from San Juan, Puerto Rico. To book a stay at St. Remy (prices start at $300), log on to CaribbeanDays (Caribbeandays.com; 800-942-6725), a clearinghouse for island rentals. There are numerous resorts to choose from on St. Lucia as well, and the grandest (and priciest) of them all is the Royal St. Lucian on the island's northern side (800-255-5859; from $390). If you want a full-time view of both Pitons on the Soufrière end of the island, reserve a room at the ultraposh Ladera resort (800-738-4752; from $295), which is built between the two peaks, along the lip of an extinguished volcano.