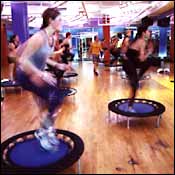 Om Yoga Center, 826 Broadway, at 12th Street; 212-254-9642
Description: Instructor Christie Clark gently moves you into correct alignment as the class flows at an easy pace from one posture to the next. You'll need to be able to touch your toes, but don't get discouraged if you can't leap from crow's pose into a handstand.
Results: Should ease that back and shoulder tension.
Scene: Haven't learned your Sanskrit prayers? Just mumble along with the toe-ring-and-tattoo-sporting yoginis.
Cost: $15.
Tower Class
Power Pilates, 49 West 23rd Street; 212-627-5852 (and some Equinox locations)
Description: A combination of a mat class and a semiprivate session (sessions are limited to nine people) using a mini version of the Cadillac. Beginners will find it a good intro to machine work.
Results: As with all Pilates exercises, your "powerhouse" is the focus, but gripping the Tower gives your triceps an isometric challenge, and the "magic circle," a ring-shaped resistance prop, works a spell on your inner thighs.
Scene: Yoga expats, dancers, and open-minded jocks huff and puff in a light-filled studio lined with towers.
Cost: $25.
Balance, 414 West 14th Street; 212-414-2922
Description: Jennifer Kries, a former dancer with several instructional yoga and Pilates videos to her name, has devised a special Pilates-style exercise for each part of your body using those giant Crayola-colored gym balls.
Results: Abs, abs, abs. Fighting to keep the ball in place means you're using your core, whether it's arm work or even a back stretch.
Scene: Artists and Jeffrey addicts sweat side by side in an exposed-brick loft with a meditation garden and lots of green bamboo.
Cost: $20.
Crunch, 54 East 13 Street; 212-475-2018
Description: Sprints, ski moves, and plyometric jumps on a mini trampoline.
Results: All that bouncing with Greg Cooke and Angie Lee helps drain the lymphatic system of toxins, warding off illness in the process.
Scene: Twenty- to fortysomethings in tank tops and cargo pants or leggings, bouncing to house and rock tunes.
Cost: $24.
Sal Anthony's Movement Salon, 190 Third Avenue, near 17th Street; 212-420-7242
Description: Similar in theory to Pilates in that lengthening and strengthening is the goal, but unlike Pilates, all Gyrotonic moves are centered on arching and curling the spine. The continuous pace jacks up the heart rate and gives the class an aerobic component.
Results: Tones the hard-to-reach sides of the waist and dreaded love handles. "I've seen people change dress sizes," says instructor Daniel Giel.
Scene: What was once Fat Tuesday's, the jazz club home to Miles Davis and Dizzy Gillespie, and before that a German beer hall, is now filled with neighborhood mommies.
Cost: $35 each.
Equinox, 140 East 63rd Street; 212-750-4900
Description: Stephanie Culen's class moves from one posture to the next, set to music that ranges from Bob Marley to Dido, with an Indian tune or two.
Results: Increases flexibility and strength; the added abdominal sequence is a good core strengthener.
Scene: There's hardly an inch of space as everyone from bulky jocks to injured runners are now taking this class.
Cost: $25.
The Sports Club L.A., 330 East 61st Street; 212-355-5100
Description: The ultimate spinning class, designed to train people as if they were preparing for a road race. Each class has two instructors ready to offer alignment adjustments or in-your-face style encouragement.
Results: Quads and hamstrings of steel and improved cardio capacity. The class is run in six-week intervals with a specific goal in mind—such as preparing for a 180-mile endurance ride.
Scene: Wannabe Lance Armstrongs with shaved legs peddle furiously alongside those who've only just graduated from the basics class.
Cost: $35.
Exhale, 980 Madison Avenue, near 77th Street; 212-249-7118
Description: Fred DeVito and Elisabeth Halfpapp, formerly of Lotte Berk, have infused their routine with a spiritual vibe. Full-body conditioning begins with hand weights, moves to the barre for pliés, followed by ab work and their famous seat-shaping. It ends, thankfully, with a full four minutes of Savasana.
Results: Flat abs, tight butt, and long, lean leg muscles. The
Scene: Ladies who lunch and yoginis gather in this soothing celery-green studio.
Cost: $30.
Madison Square Club, 210 Fifth Ave., near 26th Street; 212-683-1836
Description: Army-style drills held in Madison Square Park starting in the spring. Begins with a warm-up stretch followed by medium-pace jogging, squats, bench step-ups, and reverse park-bench crunches.
Results: High-repetition strength-training increases muscle definition and stamina at the same time. Hard-core masochists supplement the program with at-home workouts using instructor David Kirsch's new Beach Boot Camp video.
Scene: It's the urban version of the Hamptons Beach Boot Camp. Guys will appreciate the opportunity to lunge next to Heidi Klum and Naomi Campbell; women might want to keep a safe distance.
Cost: Members, $30. Nonmembers, $40.
New York Health & Racquet Club, 20 East 50th Street; 212-593-1500
Description: Though step may seem a little late-eighties, it's still one of the most fun classes around. After a quick warm-up, the group is taken through a series of dancey turns, jumps, and lunges, all choreographed around the step.
Results: Your legs and butt get a workout along with your heart and inner Rockette.
Scene: Victor Cabezas has a bit of a cult following, but it's not too intimidating here, where the crowd is on the older side.
Cost: $50.