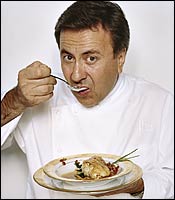 It's one thing to whip up a holiday meal for your family and friends. It's another thing to subject your culinary handiwork to public scrutiny—and the palate of Daniel Boulud. The three brave souls featured below did exactly that. Each is a passionate, but not professional, cook, who planned and executed his or her own holiday menu, then waited as Boulud rendered judgment. Happily, there was much Boulud liked (though he offered his share of ideas for improvements). For each chef, Boulud chose a favorite dish—the recipes appear below. These aren't just good amateur dishes. "For home cooks, they could put a lot of chefs to shame," says Boulud. He also chose a winner. Bravery has its rewards.
The Contestants
Nancy Verdolini's Small-Plates Special
Michele Bambling's East-West Feast
Nancy Verdolini's Small-Plates Special
The 41-year-old part-time lawyer and mother of two grew up in Philadelphia glued to The French Chef and The Galloping Gourmet, then proceeded to cook her way through Jacques Pépin's La Technique and Julia Child's entire oeuvre. Steeped in the French classics, she started refining her own style by throwing elaborate dinner parties at Yale—or as elaborate as they could be on an undergrad budget. Fresh pasta became a specialty and remains one to this day, as do individual fruit tarts. During a summer stint waitressing at Isabella's, Verdolini met the pre–Mesa Grill Bobby Flay, whose paper-thin pasta inspired her to lug a brand-new pasta machine back to New Haven. Verdolini's style can be categorized as ingredient-driven: She scours the city (and the farmers' markets) for the best and freshest ingredients and cooks seasonally and visually, with most meals unfolding as a succession of small plates. Her menu teems with fall flavors, from the carrots and chanterelles in the gnocchi to the peppers, both spicy and sweet, in the salmon. Grilled quail, with its festive garnish of beets, pomegranate, and greens, is a harbinger of the holidays, and the warm apple sandwiches make a fitting seasonal finale.
—Robin Raisfeld
The Menu (click for recipes)
Appetizer
Baked-potato gnocchi with wild-mushroom ragout and carrot purée in a carrot broth
Fish Course
Slow-roasted ancho-chili-cured wild salmon in a red-pepper-and-leek sauce with braised spinach
Entrée
Broiled quail with blood-orange-and-pomegranate glaze, warm-vegetable-and-wilted-arugula salad, and crispy polenta triangles
Dessert
Warm apple sandwiches with a vanilla-bean custard sauce
Daniel Says
Appetizer: The colors in the gnocchi dish are beautiful; it represents what great ingredients can do. It's also a great combination for vegetarians. Gnocchi become gummy if overworked, but these melt beautifully. A little Parmesan would have given them a little zing.
Fish Course: A sophisticated and simple combination—that's hard to achieve. The honey and smoky ancho-chili cure is exotic and unexpected. The salmon is totally cooked through but at the same time soft. It needs a little drizzle of olive oil over the top to keep it from looking dry, and a few drops of lemon and a sprinkle of sea salt would help boost the flavor and cut the fat. I'd like it a bit more spicy—a pinch of cayenne in the pepper coulis would be a good thing.
Entrée: The quail is perfectly cooked with a nice char on top. The polenta does not have much flavor; it doesn't bring much to the dish, especially with gnocchi to start—it was too much of a repeat on texture. Because of the pomegranate glaze, there is a certain sweetness in the dish. I would have marinated the beets separately, giving them a punch of vinegar to break up the earthiness.
Dessert: The apple is a little plain—too much like apple sauce. It could have a more floral flavor—maybe some grated orange zest should have been added. But the sugar cookies are delicious and bring the apple to life. The crème anglaise is superb, too, rich in the flavor of eggs and cream, with plenty of vanilla. It takes me back to my childhood at the farm, when I used to take the cream off the top of the milk.
Jason Wright's Ode to Fall
Wright, a 44-year-old Merrill Lynch senior VP and chairman of the Museum of African Art, began cooking as the child of a working mother in Waterbury, Connecticut. He obviously had a knack: By the time he graduated from Georgetown, he was proficient (and picky) enough to cater his own party. (Biggest hit: "Pâté Maison Frank," a recipe he'd clipped from Better Homes and Gardens.) These days, his role models are Julia Child, Marcella Hazan, and Andre Soltner, but he's most challenged by the members of his cooking group, sixteen food-obsessed (and amicably competitive) souls who meet four times a year to collaborate on elaborate potluck feasts. Wright travels often, and when he's in town, he loves nothing more than entertaining at home, sometimes as often as five nights a week. By now, he's got the planning down to a science, clearing his calendar to be home by 5:30 and greeting guests with cocktails and gougères two hours later. His entertaining style is generally easy and unfussy, and so is his food. This menu starts with a strong seasonal note—Gorgonzola-enhanced pumpkin risotto—then segues into a relatively light but flavor-packed cod with an autumn-appropriate curried carrot broth. The grated-apple pie with Calvados-steeped raisins, from Soltner, completes the fall effect.
—Robin Raisfeld
The Menu
Appetizer
Pumpkin-and-Gorgonzola risotto with fried sage leaves
Entrée
Pan-seared cod with enoki mushrooms and lardons in a curried carrot broth
Dessert
Grated-apple tart with vanilla crème fraîche
(from The Lutèce Cookbook, by Andre Soltner and Seymour Britchky)
Daniel Says
Appetizer: The rice is perfectly cooked. Risotto is tricky—it has to go from stove to plate and be eaten immediately, while it's hot, like a soufflé. I thought the Gorgonzola was going to be cheesy, overpowering the pumpkin, but because pumpkin is a bland vegetable, the Gorgonzola gives it a little dimension. The dish has a lot of fall flavor: sage, pumpkin, and pine nuts. I might have added a little smoked bacon, but there is bacon in the next course.
Entrée: The fish is perfectly cooked—it just breaks on the fork. I'm impressed. The bacon adds a bit of meatiness, and the saltiness is good. It would be nice to preseason the fish with a little curry to give it a boost, and I would boost the broth, adding more compound curry butter, and finish the fish in that.
Dessert: The dough could be thinner on the bottom (I would prebake it until the base starts to dry out). But I love this. It's fantastic. Great flavor—I can taste the Calvados in the raisins. It would make Soltner proud.
Michele Bambling's East-West Feast
Manhattan mother, art historian, and unreconstructed Japanophile, Bambling, 41, spent five years of her childhood in Tokyo, and all those bento-box lunches of maki rolls with nori made an indelible culinary impression. (On the other hand, she's never developed a taste for peanut-butter-and-jelly sandwiches.) During frequent collegiate and postcollegiate trips to East Asia, she began casually exploring traditional Japanese food and the role it plays in daily life, from the rigidly structured variety of cooking methods to the art of the tea ceremony. She's designed her Manhattan kitchen after Japanese izakayas, where diners often eat within view of the cook, and serves food on artisanal Japanese plates. For this menu, Bambling took inspiration from her extensive collection of Japanese ceramics, incorporating aesthetic effects like red and green with touches of wintry white into the meal for a holiday flair. The ingredients take their cue from the season as well, in traditional Japanese fashion. Bambling integrates distinctive flavors like pickled plum, yuzu, matcha, ginger, and curry into a menu that showcases seasonal ingredients like scallops, mushrooms, and figs.
—Robin Raisfeld
The Menu
Appetizers
Seared scallop with umeboshi pickled-plum glaze and shredded shiso
Curry-crusted shiitake and shimeji mushrooms in yuba nest
Entrées
Roasted red snapperwith tomatoes and yuzu, with brown rice
Rare skirt steak with roasted leeks and wasabi-lemon sauce, served with miso-glazed kabu, asparagus, and okra
Dessert
Matcha "mille-feuille" garnished with figs and mint
Daniel Says
Appetizers: The scallop is superb; the dish is magnificent. Less is more, with only three components—extremely Japanese. The scallop needs the support from the shiso, which can be overpowering, but in a single garnish it works well. The curry is very mild and complements the mushrooms, while the cream brings out their flavor without making the dish greasy—a great expression of fall.
Entrées: The smell of the Mediterranean-influenced red snapper is fantastic. The dish is low-fat, with complex flavors; the ginger spices it up, but I'd add fried ginger and a pinch of chili for more spice. Steak and potatoes—Michele is cooking for Americans now! The leeks are fantastic, the wasabi-lemon sauce adds a very simple flavor and contrasts with the nicely seared skirt steak, which has a good, beefy flavor. The vegetable dish also contrasts with the beef, and the toasted sesame seeds keep the vegetables from being flat.
Dessert: This is delicious for a Japanese dessert—very tasty. Japanese love mille-feuille. I would have liked a little caramelized sugar on the last crêpe, like a crème brûlée.
And The Winner Is …
Michele Bambling. "I was impressed with her technique and organization," says Boulud. "In a short time, she pulled off six delicious courses without smoke and fireworks. She also has a passion beyond the food—a great sensibility for the culture."