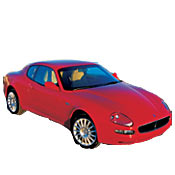 Yes, after twelve years, the Italian luxury-car company is returning to America.
Two new models – the Spyder convertible and the Coupé (below), offering such necessary features as a Formula 1 electronic shifter, alarm system with "anti-tow" protections, and a 390-horsepower engine capable of going from 0 to 60 in 4.8 seconds.
Eighty-four thousand to $100,000.
Don't be so cheap – that includes self-ventilated, cross-drilled large-diameter disc brakes!
Absolutely not! Silvano Marchetto, owner of Da Silvano, recently bought two Spyders, which he finds a lot of fun – especially outside the city. "If the police in Long Island knew how fast I drove recently," he says, "I'm sure they'd be waiting for me with a ticket next time!"