The Piano Tuner
By Daniel Mason
A British piano tuner is sent into the jungles of Burma to fix the instrument of an obsessed and influential British officer (Knopf).
From a Buick 8
By Stephen King
King conceived this tale about a malevolent car before his horrific auto accident (Scribner).
You Shall Know Our Velocity
By Dave Eggers
A couple of Wisconsin slackers, Will and Hand, try – and mostly fail – to responsibly give away lots of money (McSweeney's Books).
Blessings
By Anna Quindlen
An abandoned baby is found on a sprawling, rural estate (Random House).
The Crimson Petal and the White
By Michel Faber
Rich tale of a London hooker's progress through Victorian society (Harcourt).
On Top of the World: Cantor Fitzgerald and 9/11
By Howard Lutnick and Tom Barbash
The company, the CEO, and the catastrophe (HarperCollins).
Longitudes & Attitudes: The World in the Age of Terrorism
By Thomas L. Friedman
Times pundit's 9/11-related columns, followed by a work diary (FSG).
Step Across This Line
By Salman Rushdie
First collection of the celebrated novelist's nonfiction (Random House).
In the Hand of Dante
By Nick Tosches
Macho rock critic–biographer's ambitious, abrasive novel (Little Brown).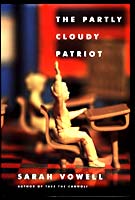 The Partly Cloudy Patriot
By Sarah Vowell
Take the Cannoli essayist's wry collection of American-civics lessons (S&S).
Hello to the Cannibals
By Richard Bausch
A novel by the craftsman of domestic short stories (HarperCollins).
The Story of Lucy Gault
By William Trevor
Prosperous Irish family torn apart in the twenties; by acclaimed Felicia's Journey author (Viking).
The Autograph Man
By Zadie Smith
A half-Chinese, half-Jewish autograph dealer pursues a celebrity's signature while fighting off a physical, emotional, and spiritual breakdown (Random House).
Summerland
By Michael Chabon
A 500-page young-adult novel set in a magical alternate America (Miramax Books).
December 6
By Martin Cruz Smith
This twisty story about an expat American con man is set in Japan the day before Pearl Harbor. (Simon & Schuster).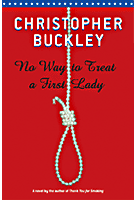 No Way to Treat a First Lady
By Christopher Buckley
Satirical D.C. thriller taking off on Monicagate (Random House).
An Army at Dawn
By Rick Atkinson
How the Allies won World War II; first of the Pulitzer winner's Liberation Trilogy (Henry Holt).
Agape Agape
By William Gaddis
Last novel by the late master of technological dystopia (Viking).
A Bed for the Night
By David Rieff
The human-rights journalist's look at the failings of humanitarian organizations (S&S).
Worth the Fighting For
By John McCain
New thoughts from the political iconoclast (Random House).
The Crazed
By Ha Jin
Fiction touching on Tiananmen Square; a follow-up to the Pulitzer-nominated Waiting(Pantheon).
July, July
By Tim O'Brien
Famed Vietnam chronicler depicts the fallout of a baby-boomer college reunion (Houghton Mifflin).
Why Orwell Matters
By Christopher Hitchens
The blustery Brit's examination of an idol and kindred spirit (Perseus).
The Demon in the Freezer
By Richard Preston
The Hot Zone author's real-life thriller about smallpox as bioweapon (Random House).
The Green Hour
By Frederic Tuten
Urbane love story involving a self-destructive Parisian art historian (Norton).
Ignorance
By Milan Kundera
From the celebrated Czech, lovers in liberated Prague (HarperCollins).
The Little Friend
By Donna Tartt
A coming-of-age story that takes place in Tartt's native South (Knopf).
Reversible Errors
By Scott Turow
A death-penalty case featuring two sad-eyed-adult love affairs (Farrar, Straus & Giroux).
A Long Way From Home
By Tom Brokaw
The broadcaster behind The Greatest Generation recounts a Heartland upbringing (Random House).
The Seven Ages of Paris
By Alistair Horne
An authoritative thousand-year history; 25 years in the making (Knopf).
The Skeptic: A Life of H. L. Mencken
By Terry Teachout
Biography based on the acerbic columnist's private papers (HarperCollins).
Seek My Face
By John Updike
The elder statesman novelizes the history of postwar American art (Knopf).
Chronicles, Vol. 1
By Bob Dylan
The legend tells all, Part One (S&S).