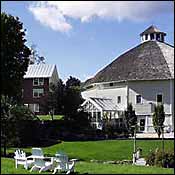 Vermont
B&B: Inn at the Round Barn
(802-496-2276; theroundbarn.com; doubles from $130 per night)
What's Inside: Each of the twelve unique rooms in this converted carriage house—set on 245 acres of flowery meadows and fish-stocked ponds in charming Waitsfield—features homey touches like cathedral ceilings and oversize tubs. For breakfast, try the lemon-blueberry pancakes. And don't be shy with the Vermont maple syrup: It's hand-infused with mango, guava, or passion fruit.
What's Nearby: Sporting types will enjoy the superb hiking and mountain-biking trails, fishing ponds, swimming holes, and horseback riding (ask the innkeepers to point you in the right direction). Try the Store for kitchen- and home wares, Warren Village Pottery for local crafts, or the Warren Store for anything from clothes and wine to local gossip. The Common Man restaurant serves tasty French-American dishes like Cornish game hen and escargot. Make a pit stop at Maynard's roadside stand for killer dogs, fries, and frappés.
Maine
B&B: Captain Lord Mansion
(800-522-3141; captainlord.com; doubles from $175 per night)
What's Inside: This nineteenth-century mansion, perched on a manicured hill overlooking the Kennebunk River three blocks from coastal Kennebunkport, has everything a romantic inn should have: four-poster beds, super-comfy linens, and lots of history (there's a massive fireplace dating back to 1812 as well as a Centennial Chippendale dining-room set that belonged to the original Lord family—the clan occupied the mansion from 1812 until 1972). Three-course breakfasts include sweet treats like stuffed French toast and savory dishes like a homemade frittata.
What's Nearby: In the shadow of the seaside Bush compound, you'll find sailing charters, whale watching, and sea kayaking; mom-and-pop boutiques and craft shops at Dock Square; the cute Seaside Trolley Museum; and, of course, plenty of lighthouses, seagulls, and oceanfront lobster shacks. Book a table at Windows on the Water for Thai-style lobster or lobster ravioli, and be sure to squeeze in a side trip to L.L. Bean.
Massachusetts
B&B: Birchwood Inn
(413-637-2600; birchwood-inn.com; doubles from $155 per night)
What's Inside: Set beneath pines, oaks, and, yep, birches, the 1767 Birchwood feels woodsy and secluded, but it's just blocks from the center of Lenox. Reserve one of the deluxe suites on the second floor: All have wood-burning fireplaces, antique four-posters or canopies with feather beds, virgin wood floors covered with Oriental carpets, and pretty views of the Berkshires. For breakfast, cross your fingers for the cheese-and-tomato soufflé.
What's Nearby: Lenox is all about culture. There's Tanglewood and Jacob's Pillow, the Berkshire Opera, Shakespeare & Co., the Norman Rockwell Museum, and all manner of upscale galleries (Ute Stebich and the Lydia Mongiardo collection are two good bets). Fuel up with lunch at Bistro Zinc (they make a nice lobster roll) and try a regional-American dinner (braised antelope rillettes and monkfish fillet) at Blantyre.
Nantucket
B&B: Pineapple Inn
(508-228-9992; pineappleinn.com; doubles from $195 per night)
What's Inside: This converted 1838 whaling captain's house on a narrow, tree-lined street in the romantic island's historic downtown district was recently renovated, so everything from the massive four-poster beds and lacy canopies to the Oriental carpets, Ralph Lauren duvets, and marble bathrooms is shipshape. Homemade gourmet breakfasts like a nectarine-and-blueberry tart are served restaurant-style at tables in the formal dining room or outside on the patio, where you can smell the fresh sea air.
What's Nearby: Captain Tom's Charters specializes in fly-casting for striped bass and bluefish. Strong Wings outfitters will lead you on kayaking, mountain-biking, climbing, hiking, and birding trips. Hit Cisco beach for surfing and sun worshiping or Madaket beach for picnics at sunset. There's shopping (mostly preppy stuff like Ralph Lauren and Lilly Pulitzer) in the cobblestoned downtown. Sit your sunburned self down at the Brant Point Grill for freshly shucked oysters and champagne or at the Lobster Trap for grilled swordfish and cold microbrews.
Related Features:
More B&B Picks in Our Weekend Getaway Guide