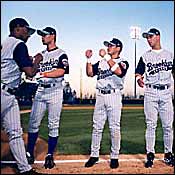 The Mets are in free fall, and you don't want to donate more money to the Steinbrenner fund? Support your local minor-leaguers, and enjoy the intimate parks, the cheap tickets and beer, and the chance—just maybe—to see the Roger Clemens or Derek Jeter of, oh, 2009.
Team
Staten Island Yankees (718-720-9200; siyanks.com; tickets from $8)
The Draw
The Bronx Bombers' rookie-league team, the A-level Yanks, are a great way to see fresh draft meat. Steps from the ferry, the Richmond County Bank Ballpark has an unbeatable view of New York Harbor and the Statue of Liberty.
When To Go
Any of the raucous games against the rival Brooklyn Cylones: July 1, 15, 17, and August 2. On August 25, Sugar Ray performs after the game. Fireworks nights are July 3 and 26 and August 15.
Where To Eat
Ruddy & Dean's (44 Richmond Terrace; 718-816-4400), just across the street from the stadium, features quick and easy pub grub. Or take a ten-minute walk to the Polish Place (19 Corson Avenue; 718-442-8909) for pierogis and golumkis.
Where To Drink
Just down Bay Street, the lively Cargo Cafe (120 Bay Street; 718-876-0539) presents local bands four times a week, with open-mike night on Mondays.
Team
Brooklyn Cyclones (718-449-8497; brooklyncyclones.com; tickets from $5)
The Draw
Since baseball returned to Brooklyn in the form of this A-ball Mets franchise, Keyspan Park has been among the toughest tickets in sports. For last-minute tickets, try cyclones.stubhub.com, where season-ticket holders sell extra seats.
When To Go
The home series against the Staten Island Yankees are June 30; July 2 and 16; and August 1 and 3. The Ebbets Field faithful will want to be there on August 3, when Jackie Robinson's No. 42 is retired.
Where To Eat
New York culinary history, high and low, can be had within a short walk. For the former, try Gargiulo's (2911 West 15th Street; 718-266-4891), the 96-year-old Italian institution; otherwise, there's Nathan's Famous (1310 Surf Avenue; 718-946-2202).
Where To Drink
Peggy O'Neill's (1907 Surf Avenue; 718-449-3200), with live music and outdoor seating right down the block, is an after-church must for the Cyclones flock.
Team
Newark Bears (973-483-6900; newarkbears.com; tickets from $7)
The Draw
Run by fondly remembered Yankees catcher Rick Cerone, the independent Atlantic League Bears recently acquired Rickey Henderson, age 44. The sure-bet Hall-of-Famer is currently performing his ageless act in left field.
When To Go
A hit June promotion called Rock-'n'-Block—local bands play outside on Friday nights—is likely to run all summer. Games against the rival Somerset Patriots (July 20–22, September 2–4) are also popular.
Where To Eat
Ferry Street, five minutes from the park, has restaurants of every ethnicity and nationality, especially Portuguese. Iberia Restaurant (82-84 Ferry Street; 973-344-7603) is just one of many good choices.
Where To Drink
If you haven't gotten enough baseball, Hamilton's (27 Central Avenue; 973-824-8048), a short stumble from the ballpark, is a lively pub where Bears players regularly go to rehash the game.
Team
Bridgeport Bluefish (203-345-4800; bridgeportbluefish.com; tickets from $6)
The Draw
If you like your baseball in a seaport setting, try the Ballpark at Harbor Yard, the $19 million home of the Bridgeport Bluefish (also of the Atlantic League), about an hour's drive from the city.
When To Go
The ZOOperstars, a mascot troupe with kitschy characters like Clammy Sosa, are big with kids (August 23). The "Ferry Series" against the rival Long Island Ducks are July 5–7, July 14–16, and August 27–29.
Where To Eat
The Captain's Cove (1 Bostwick Avenue; 203-335-1433) is a waterside spot with views of the Sound about a five-minute drive from the park. For a slightly more upscale meal, try Picasso's (3074 Fairfield Avenue; 203-335-2500), which, despite the name, serves Italian.
Where To Drink
Black Rock Castle (2895 Fairfield Avenue; 203-336-3990), in Bridgeport's nightlife district, offers live music and a generally rocking atmosphere. Pick a fight with a Ducks fan at the bar.